Dreaming of a cosy winter getaway filled with invigorating coastal walks and whale watching, great food, outdoor activities and cultural fun—before retiring back to a warm and snug sanctuary? Winter at the Crowne Plaza Terrigal Pacific is a wonderful time, with beautiful vistas overlooking the empty beach, a serene spa, and plenty of opportunities for R&R, from the seasonal dishes and cocktails in our restaurants to our heated pool and luxurious rooms complete, of course, with plush bathrobes and fluffy slippers.
But before you get too comfortable, let's dig into some of the Central Coast's best winter activities. With temperatures still around 15°C during the day before dropping at night, and the lowest rainfall averages of the year, this is one of the best times to go exploring.
Whale Watching
While there are many great things about winter on the Central Coast, our favourite has to be seeing whales right here on our doorstep. Known as 'whale dreaming country', by the Darkinjung People—the Traditional Custodians of the Land—over 30,000 whales pass by the Central Coast on their annual migration.
You don't even have to go far from the hotel to see them, with nearby Skillion offering a perfect vantage point—though it helps if you have binoculars. Alternatively, if you feel like braving the waves, an exhilarating trip with Terrigal Ocean Tours is an amazing way to get up close and personal with these gentle giants.
You can also combine a nice wintery walk along the 3km Coast Walking Track in Wyrrabong National Park to Crackneck Point lookout, a very popular whale watching spot. Maybe even bring a coffee and a picnic for a perfect winter excursion.
High Tea at Crowne Plaza Terrigal Pacific
We all know winter is the perfect time to treat yourself—and what better way than with a lovely afternoon tea at the Crowne Plaza Terrigal Pacific? Served in our elegant Lord Ashley Bar & Lounge, enjoy unlimited luxury loose leaf teas, barista-made coffee or hot chocolate with our handmade cakes and sandwiches, or go all out with a glass of bubbles or a cocktail.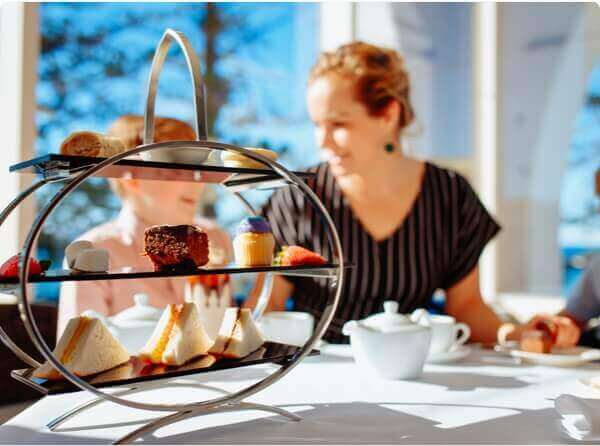 For an extra cosy winter vibe, be sure to get a table by the windows so you can soak up those stunning beach vistas while staying nice and toasty. Plus, with gluten-free, vegetarian and kids options, there really is something for everyone.
Note: afternoon tea must be pre-booked at least 24 hours in advance.
Outdoor Adventuring
If you're feeling extra adventurous, then the Central Coast has plenty of exciting outdoor activities that are even more fun in the winter than the summer.
Head to Glenworth Valley for quad biking and horse riding including mustering adventures, go kayaking or SUPing on our waterways, try your hand at FootGolf, or visit one of our favourite spots, TreeTops in Ourimbah State Forest, where you can climb, jump and soar through the misty canopy.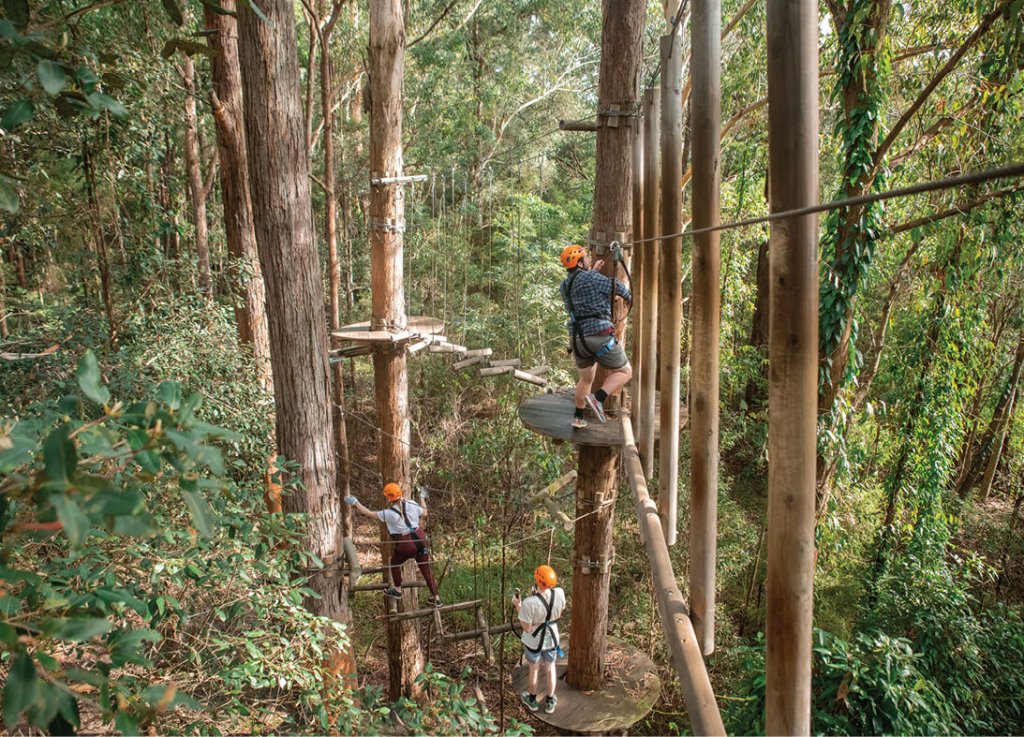 The best thing? Coming back to the Crowne Plaza and heading to the steam room and sauna. Or just taking a nice bubble bath in your room with room service and lovely luxurious towels—you do you.
Nature Walks
The Central Coast is filled with stunning nature walks and trails crisscrossing the beach, the bush and the hinterland. Beautiful any time of year, they're especially stunning in winter when you get to avoid the crowds while enjoying the cooler weather and the different seasonal views.
One of the most famous, the 8km Bouddi Coastal Walk, has beautiful wildflowers at the end of winter/early spring and offers incredible views of the rugged coastline. Further inland, Somersby Falls is a popular summer spot that is much more peaceful in the winter.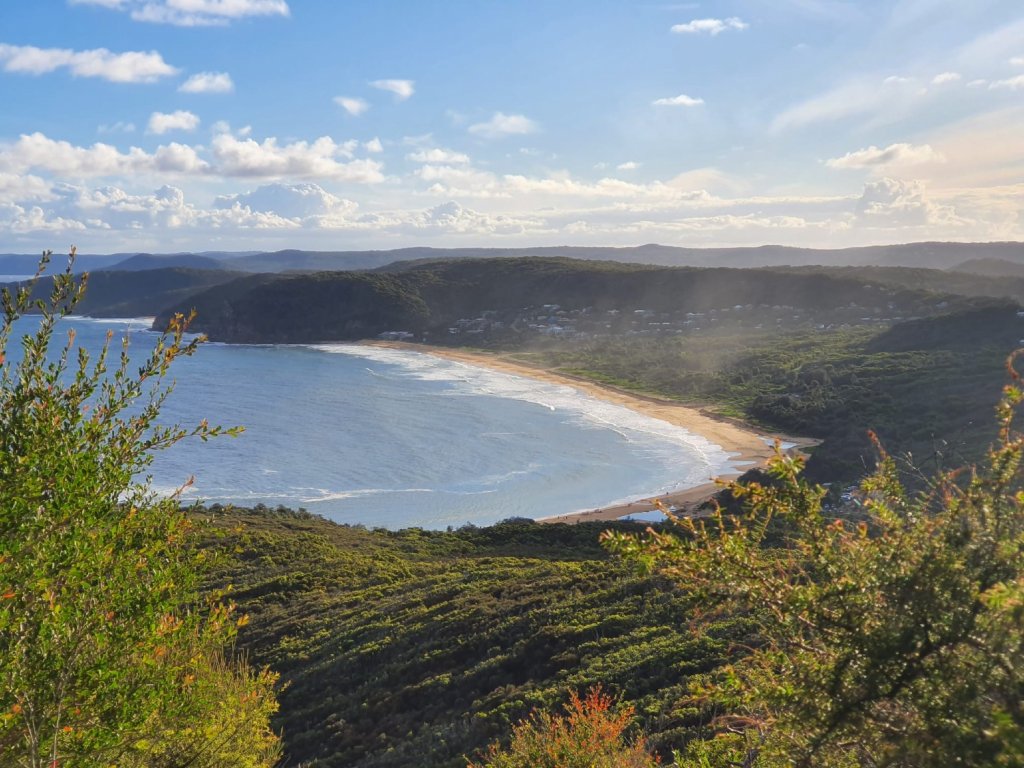 Each year around the winter solstice, the 5 Lands Beach Walk is a 10km warming affair in the middle of winter, with celebrations of the Central Coast's rich Indigenous heritage, cultural events, food, drinks, shuttle buses, and of course, amazing scenery and whale watching. Though you can follow the walking trail any time of year, there's nothing quite like the buzz when everyone comes together to celebrate the Central Coast's stunning natural beauty, fascinating history and thriving culture.
Explore the Local Foodie Scene
While the Central Coast's drinking and dining scene is amazing all year round, the awesome interior design and seasonal menus really come into their own in the winter months. This is the time for big breakfasts, long lunches and decadent dinners and savouring flavours, rather than just grabbing a quick bite on the go.
Winter is also the perfect time to visit our local producers and learn about how we do things differently here on the Central Coast.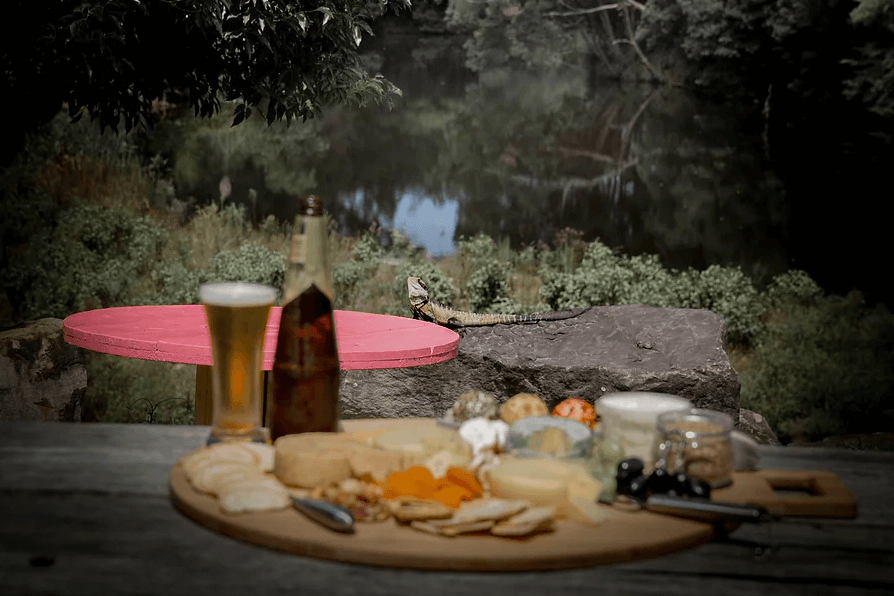 Home to Little Creek Cheese, Luka Chocolates, and much more, Wyong Milk Factory is a great place to start. It's also very kid-friendly, with a cafe, playground and plenty of outdoor activities on offer, including kayaking.
Have a big sweet tooth? Check out the Chocolate Factory in Gosford, home of Nougat Limar, Bon Bon Fine Chocolate & The Sydney Marshmallow Co. The Central Coast's equivalent of Willy Wonka's Chocolate Factory (with all the fun and none of the chaos), the Chocolate Factory offers tours, workshops for kids and tastings at its on-site cafe.
You can also visit our local markets, including the weekly Gosford City Farmers Market and monthly Terrigal Beach Markets, Umina Beach Markets, Avoca Beachside Markets and Long Jetty Markets.
Eat, Drink & Be Merry
Of course, if you prefer your winter activities to be a little more on the merry side, the Central Coast has plenty of options for you too, from wineries and family-friendly breweries to distilleries.
Sitting in the most spectacular private gardens—which is where they grow a lot of botanics for the gin and gelato—Distillery Botanica is always worth a visit, if just for the ice cream alone (even in winter!) Home to Mr Goaty Gelato, along with a cafe serving pastries, hot drinks and lunches, Bar Botanica is a welcoming winter haven, while the on-site distillery makes award-winning gin and liqueurs.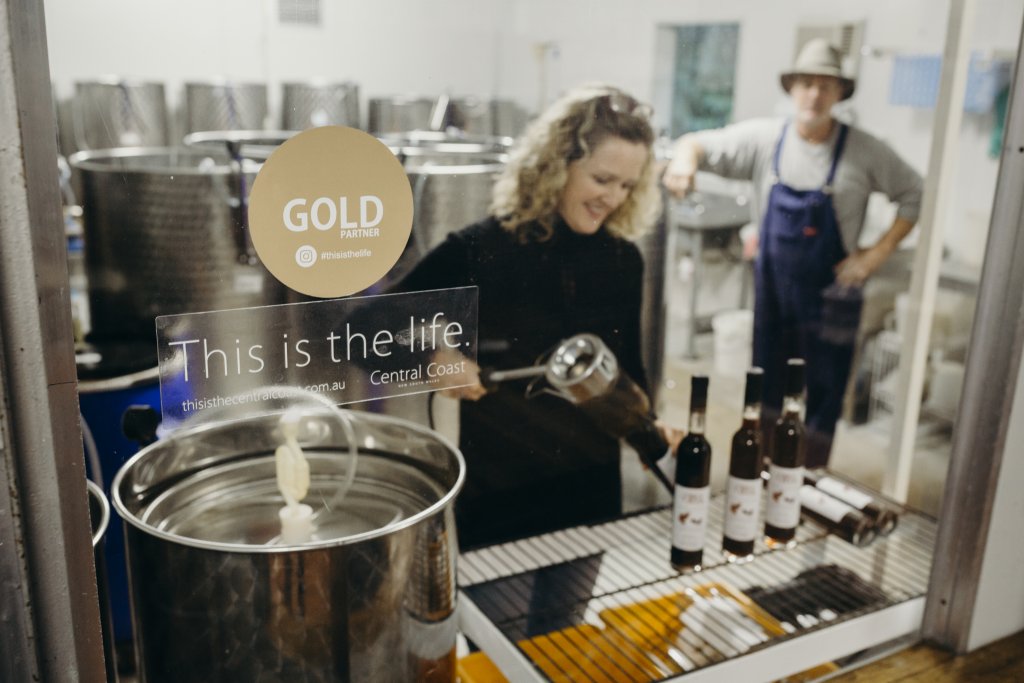 If wine is more your scene, Firescreek Winery in Holgate is a beautiful botanical cellar door in a stunning Hinterland location, with amazing gardens and an array of tasting options, including wine and handmade chocolate pairings.
Beer-wise, there are plenty of craft breweries around too, including Bay Rd Brewing in Gosford, Six String Brewing Co in Erina and Block'n Tackle in Kincumber. They also serve great food.
Sunday Afternoons at Terrigal Beach House
Sundays are one of our favourite days here on the Central Coast and it's not just because it's the weekend—it's because it's time for the weekly Sunday session here at the Terrigal Beach House.
Each Sunday afternoon, different musicians play live in our wonderfully warm and welcoming venue, where you can stay snug under our outdoor heaters and cosy up from the elements with delicious food and drinks in our weather-proof cabanas. The kitchen is even open until 9 pm if you feel like a late one.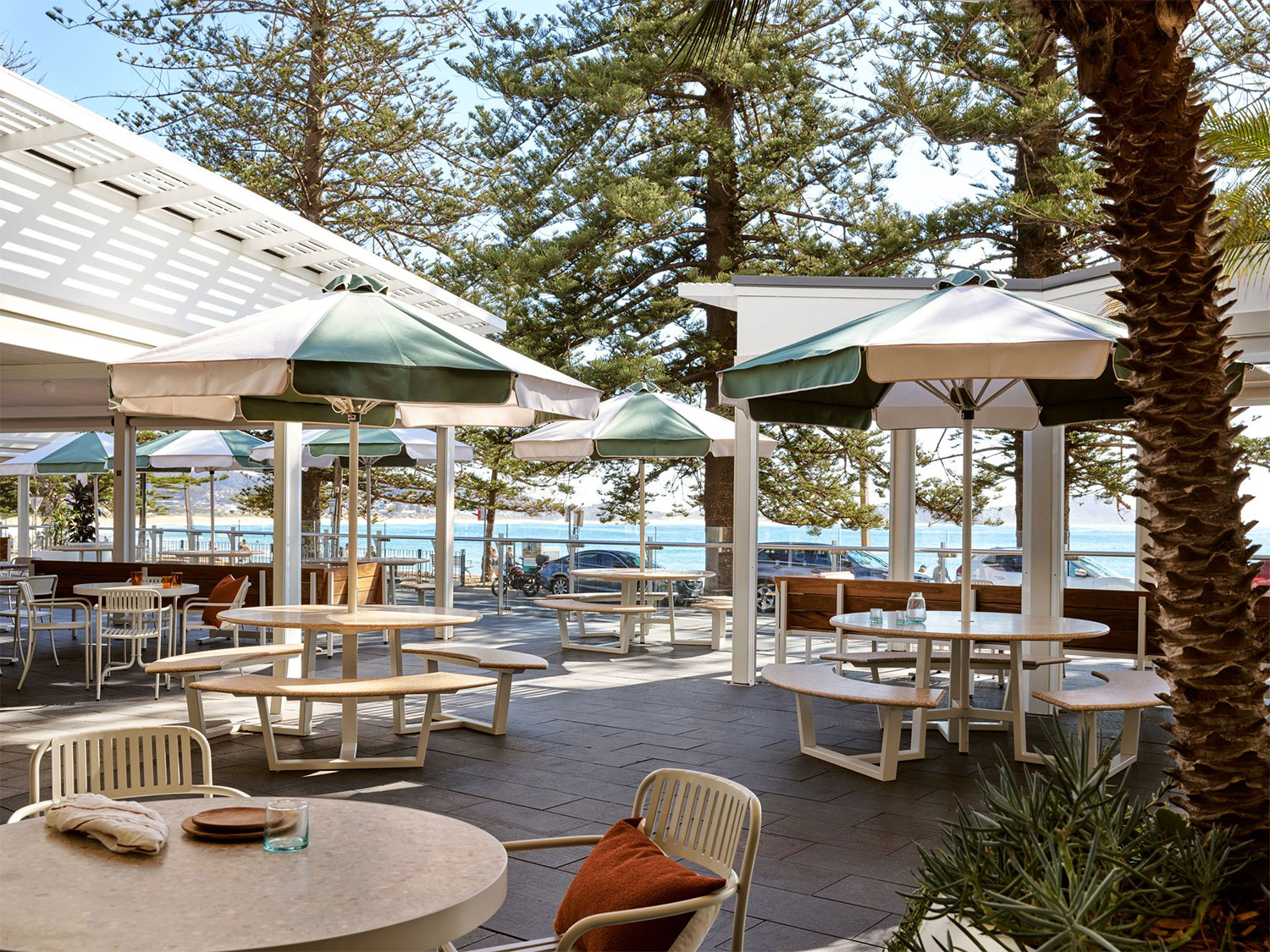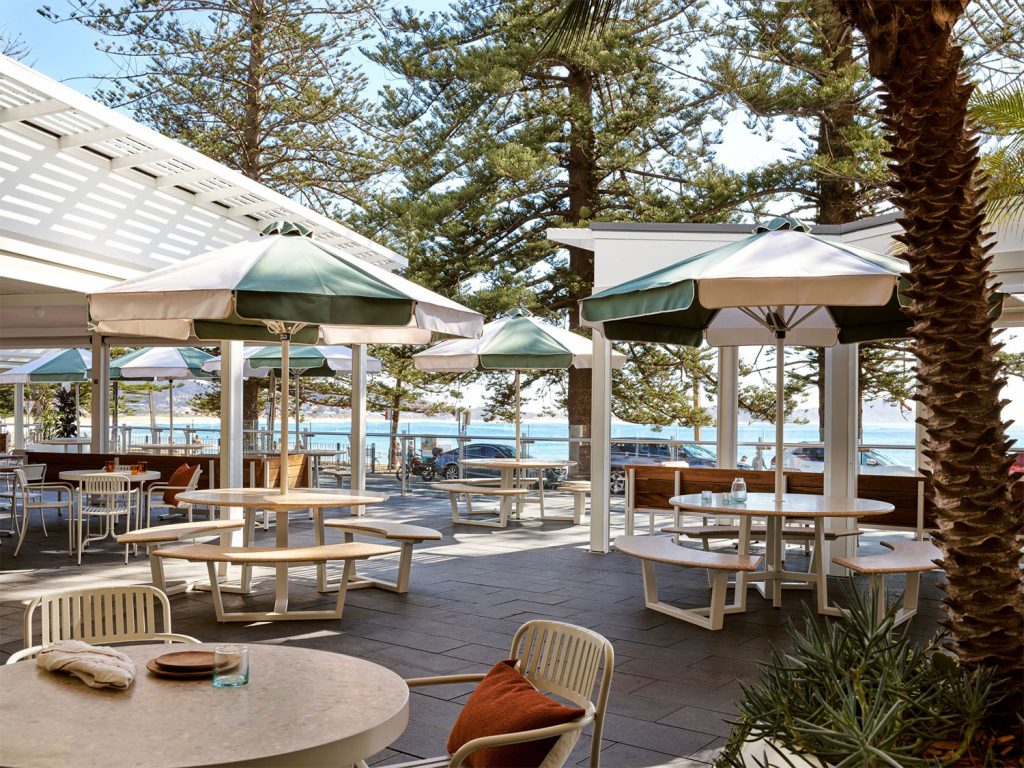 And the best bit? You don't even have to have a designated driver or order a rideshare, just step out of the Beach House and head next door to your comfy bed.
Indoor Activities
No matter how appealing the best Central Coast's outdoor winter activities are, sometimes you just don't feel like braving the chilly temperatures. Luckily, there are plenty of indoor activities on the Central Coast too, including VRROOM Entertainment Virtual Reality Centre at The Entrance.
Perfect indoor adventuring when it's miserable outside, virtual reality is only on the up and up at the moment, with options ranging from travelling around the world to visiting art exhibitions and playing games.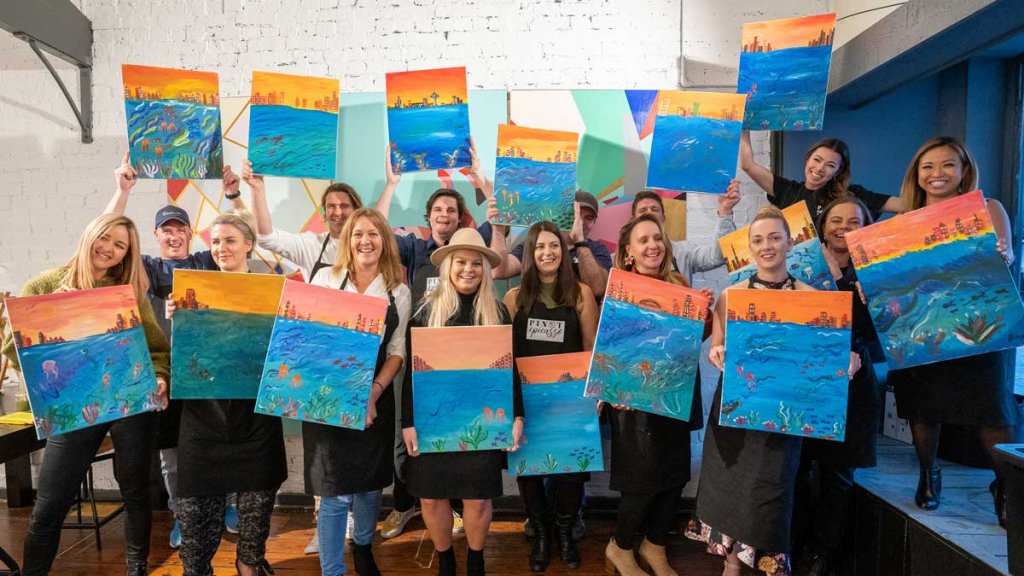 Alternatively, you can go back to the 80s for a spot of ten-pin bowling in Gosford, go ice skating in Erina or—if you prefer something a little more relaxed—even try your hand at creating some beautiful art at Pinot & Picasso or Sheramics in Terrigal. Just down the road from the hotel, this makes for a fun day when the wintery weather isn't playing ball.
If painting and ceramics aren't your scene, fear not. Artisan Estate—about 30 minutes west of Terrigal—are now offering half-day or full-day blacksmithing courses, where you will learn the essentials of the forge and take home your own creations.
Catch Some Culture
The Central Coast has plenty to offer on the cultural scene and the winter is the perfect time to enjoy it. Check out The Art House in Wyong for a show or to visit the exhibition space and cafe, or Gosford Regional Gallery & Arts Centre, where there are kids workshops and galleries full of amazing art and photography from both local and international artists.
There are also plenty of other galleries to visit on the Central Coast too, including the Ken Duncan Gallery and grantmolony X ROWSIE in The Entrance (open by appointment only).
Alternatively, you can catch a movie at the beautiful Cinema Paradiso in Ettalong—a stunning Mediterranean-style theatre showing all the new releases.
And, last but not least, if you prefer your culture with a side of history, then Henry Kendall Cottage & Historical Museum, the home of the 19th-century pioneer poet, offers visitors a fascinating trip back in time.
Spa Day
While there are plenty of winter activities on the Central Coast, sometimes the best activity is not doing much at all. Winter is traditionally a time of rest and replenishment, so it seems fitting to go all out and spend a day relaxing and pampering at our luxury endota Spa.
While you can opt for an array of relaxing and restorative massages, facials and body treatments, the spa packages offer the ultimate winter nourishment for mind, body, and soul.
Make a Furry Friend
Who doesn't want to get up close and personal with some animals on a cold day? Lucky for you, there are a few spots here on the Central Coast where you can do just that—like the Australian Reptile Park and the Australia Walkabout Wildlife Park.
Not just what it says on the tin, the Australian Reptile Park is also home to some cute—and cuddly—creatures, while the snakes, lizards and spiders are definitely worth checking out too. Alternatively, if creepy crawlies are far from your cup of tea and you'd love to visit a working wildlife sanctuary, the Australia Walkabout Wildlife Park might be more up your alley.
For more animal love, you can also ‌visit the alpacas at Iris Lodge or take a farm tour at Grace Springs Farm, where you can cuddle chooks and feed piglets.
Go to the Beach
We couldn't do any sort of roundup of activities here on the Central Coast without including a little more about our beautiful coastline—it is truly spectacular whatever the weather. Winter might bring windy days and chillier temps, but it also brings a sense of tranquility to the golden sands, when most of the crowds stay away.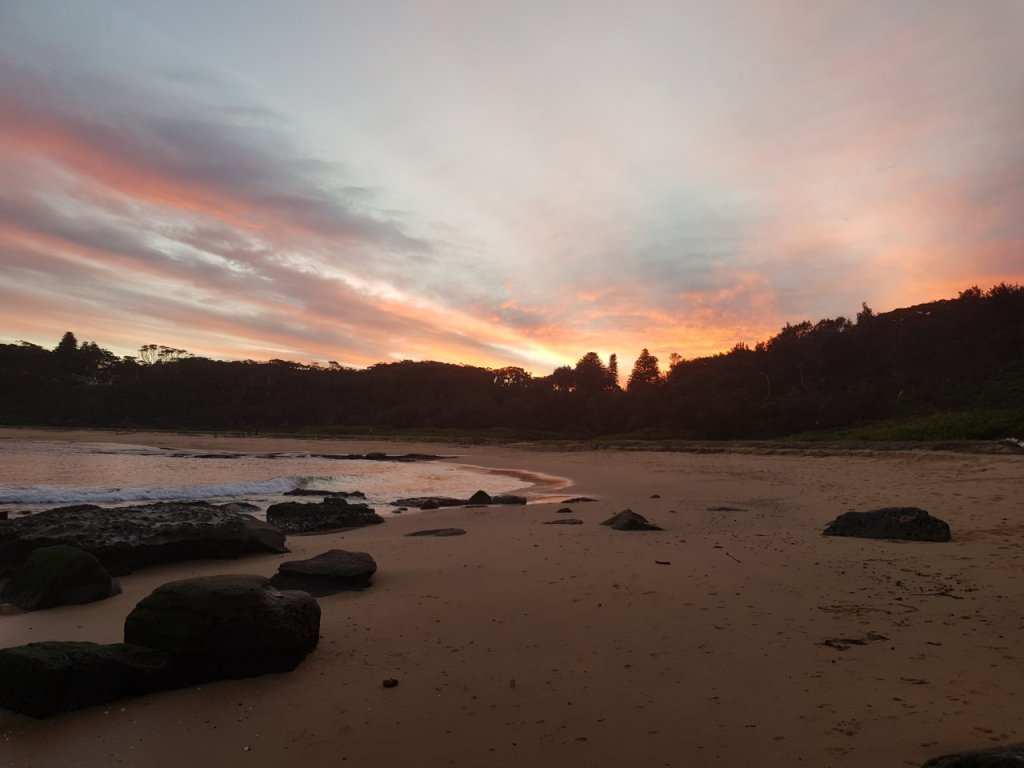 Surf-wise, winter is one of the best times of year to grab a board and take to the ocean, with some awesome surf breaks and barrelling waves. There are also plenty of rock pools to explore and rugged, moody seascapes to admire. And, if you don't feel like getting your feet wet, the Terrigal Boardwalk is also a great way to enjoy the beach life without having to take off your shoes.