Just 90 minutes north of Sydney, the Central Coast makes for an ideal escape for corporate groups looking for a relaxing, inspiring and scenic break. With a myriad of opportunities for adventurous, exciting and indulgent team-building activities on the Central Coast—from chocolate and wine tastings to quad biking and kayaking to pearl farms, obstacle courses and ceramic-making—you can focus on having fun with your team, while our award-winning team here at the Crowne Plaza Terrigal Pacific caters to all your other needs, from conferences and events to luxury accommodation (get in touch with our team here).
Perfectly equipped for hosting your next corporate getaway in our little slice of paradise on Terrigal beachfront, we offer an array of scenic meeting spaces, in-house event managers and five-star catering, with guests also able to enjoy our pool and day spa for some real R&R. After all, life can't be all work and no play!
Ideally positioned for exploring the rest of the Central Coast, we also love sharing all our favourite insider tips to help you make the most of your time here. So, whether you're after some adventurous team-building or luxurious team downtime, read on to discover more about why you should visit the Crowne Plaza Terrigal Pacific and the Central Coast on your next work-cation.
Wine & Chocolate Pairing or Foraging Mixology Workshop, Firescreek Botanical Winery, Holgate
Set in the most beautiful grounds just inland from Terrigal, Firescreek Botanical Winery is an ideal location for laid-back team-building with an indulgent twist. For an extra-decadent experience, try the 60-minute Chocolate & Wine Pairing, a decadent combination of award-winning Firescreek Botanical wines matched with handmade chocolate served in crystal glasses in the garden.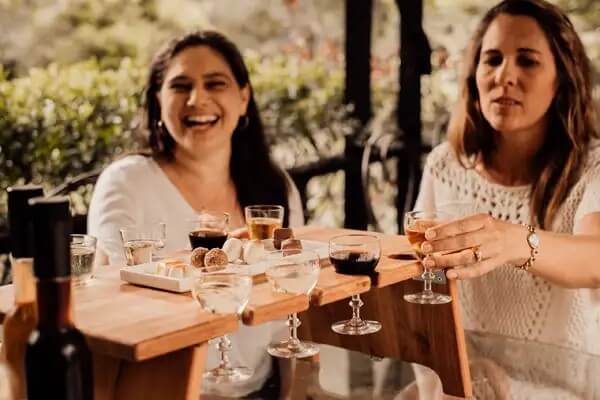 Alternatively, if you'd prefer a little more hands-on team bonding, the Firescreek Botanical Winery Foraging & Mixology Workshop is an hour-long cocktail/mocktail workshop with a difference. Start in the organic garden where your guide will help you source ingredients and garnishes, before learning to make your own cocktails/mocktails—and, if you're interested, partake in a guided wine tasting too.
Firescreek Botanical Winery, 192 Wattle Tree Road, Holgate, NSW 2250
Horse Riding, Kayaking, Quad Biking & Axe Throwing, Glenworth Valley Outdoor Adventures, Glenworth Valley
The seemingly endless lush native rainforests and wild bushland of Glenworth Valley make this an amazing destination for your next outdoor team-building exercise. You can either go easy with a relaxing horse riding tour (2 hours) or a scenic kayaking trip (2.5 hours), kick things up a notch with a quad biking adventure (90 minutes), or—if you fancy something totally different—even practice your axe throwing skills (2 hours).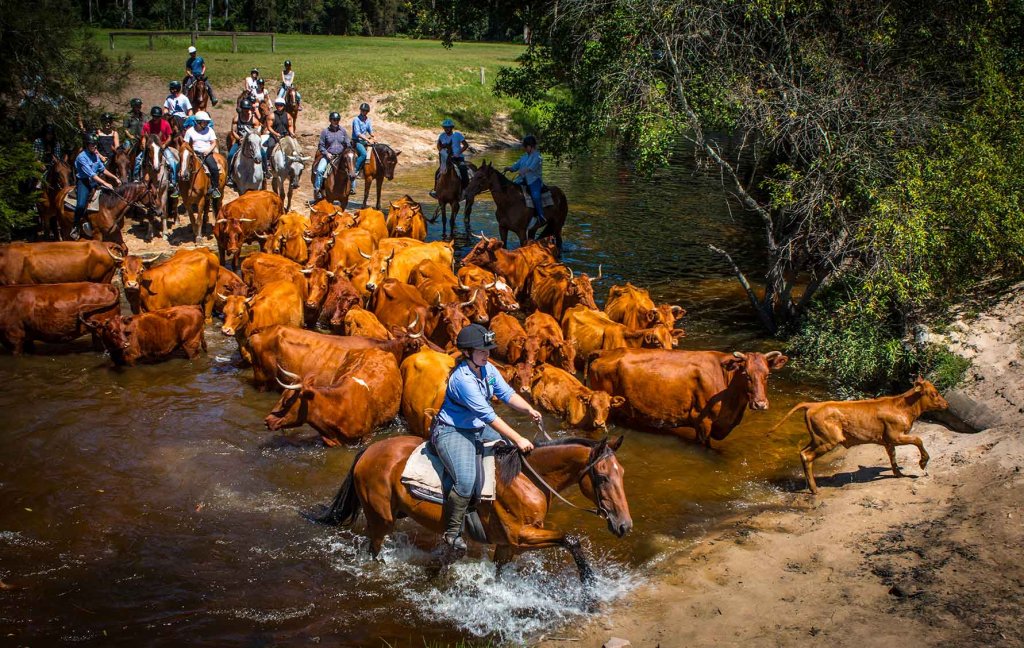 Alternatively, if you're all game, you could really put those teamwork skills to the test with the cattle drive—an epic 3.5-hour venture where you have to work together on horseback to muster a herd of cattle across the valley.
Glenworth Valley Outdoor Adventures, 69 Cooks Road, Glenworth Valley, NSW 2250
Treetops Tree Ropes Courses, Treetops Adventure Central Coast, Wyong Creek
Put your courage—and teamwork—to the test up in the trees at Treetops Adventure, a series of thrilling rope courses and aerial obstacles that involve jumping, swinging, climbing and soaring through the wilderness.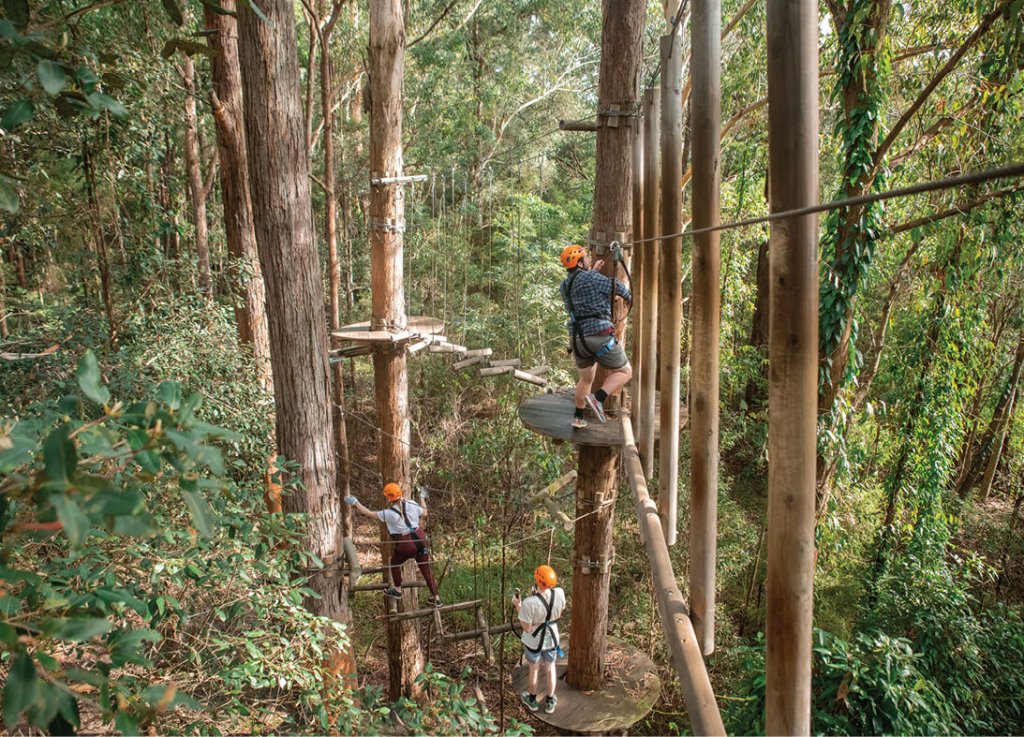 Over the 2.5 hour session, you can choose from four different Tree Ropes courses, depending on your level of experience and desire to get out of your comfort zone. Or, if you prefer something a little more stress-free, there's also NetWorld, an elevated canopy playground weaved out of trampolines, nets and ball pits—and a dreamy way to tap back into a childlike state of wonder for the world.
Treetops Adventure Central Coast, Ourimbah State Forest, 1 Red Hill Road, Wyong Creek, NSW 2259
Whale Watching Tour, Terrigal Ocean Tours, Terrigal
What says team-building like bonding over a shared amazing experience? And what better way to do that than hopping on a high-speed boat and going whale watching for an hour! Between May and November each year, migrating humpback whales pass just off the shores of the Central Coast and Terrigal Ocean Tours are right there waiting to take you out to meet these gentle giants of the deep.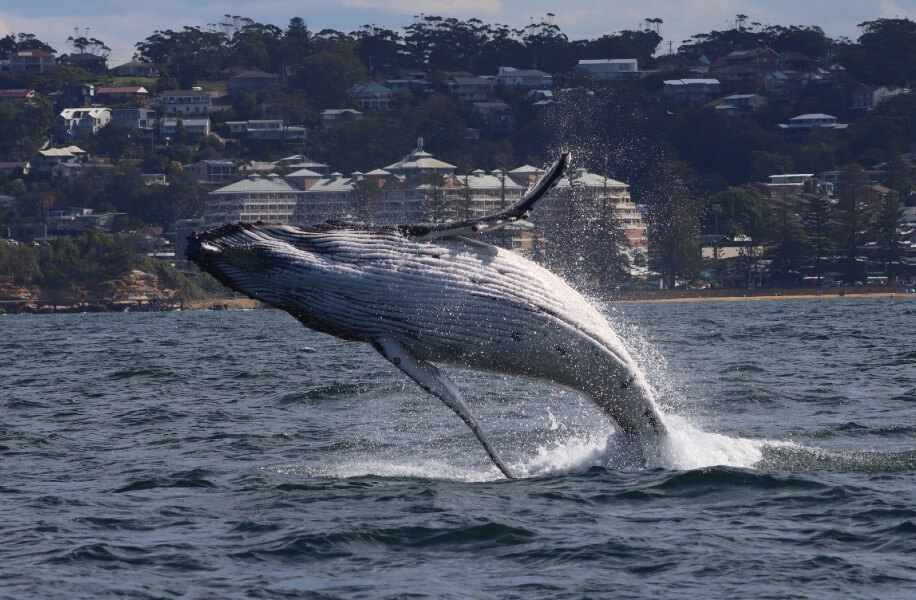 Alternatively, if you're here out of season but still fancy some ocean-going adventures, Terrigal Ocean Tours also offer 90-minute seal & dolphin watching tours where you can also spot little penguins. The 90-minute Broken Bay Twilight tour is also another group favourite, where you can end a big day with sundowners on the sea.
Please note, summer tours depart from Hardys Bay Public Wharf, 20 minutes south of Terrigal.
Terrigal Boat Ramp, Terrigal, NSW 2260
Convinced yet?
Get in touch with our team to discuss your next meeting or event on the Central Coast.
Behind the Scenes Experience, Australian Reptile Park, Somersby
Home to some of the deadliest—and cutest—animals in the world, the Australian Reptile Park in Somersby has something for everyone. Kick your visit up a notch and make a memorable team bonding adventure of it with an amazing 90-minute Behind the Scenes Experience, where you can get up close and personal with the animals with the guidance of an experienced zookeeper, feed reptiles, cuddle up to koalas and kangaroos and even witness a funnel-web spider milking.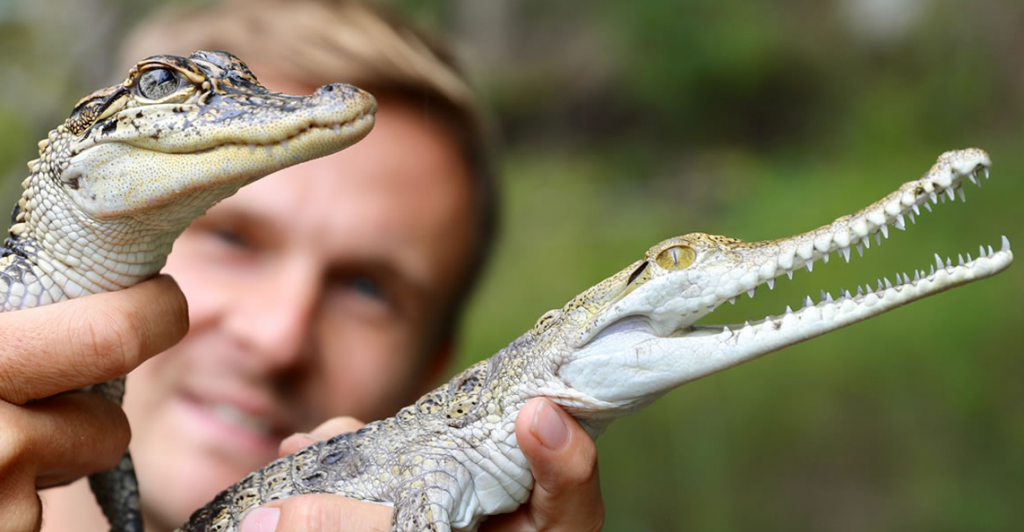 Australian Reptile Park, Pacific Highway, Somersby, NSW 2250
Afternoon Alpaca Experience, Iris Lodge Alpacas, Jilliby
One of the most whimsical and quirky team-building activities on the Central Coast, the Afternoon Alpaca Experience at Iris Lodge involves bringing your own bananas, with the fluffy bouncers eagerly awaiting their sweet treats before letting you in to continue on your 90-minute meet, greet and… eat.
Located on a working farm, there are horses, sheep, cows and llamas along with the alpacas and they all want to be fed and showered with attention. And believe us, there's nothing quite like bonding over shared alpaca love.
Iris Lodge, 33 Dunks Lane, Jilliby, NSW 2259
Oyster Farm Tours, Sydney Oyster Farm Tours, Mooney Mooney
The (business) world may be your oyster, but where do they—and the expression—come from? We can't promise they'll answer the second question on a Sydney Oyster Farm Tour but they definitely cover the first, with a nice cruise down the Hawkesbury River in a wooden open-top raft, a guided visit to the oyster leases and the chance to sample super fresh Broken Bay, Sydney Rock and Pacific oysters.
For the ultimate oyster-tasting experience, you can follow your oyster farm tour with an Immerse Yourself package, where you and your team will all don waders and jump into the water, making your way to your in-water table, where you'll taste the freshest oysters in the world and sip on wine. Team building done right.
Sydney Oyster Farm Tours, 2 Kowan Road, Mooney Mooney, NSW 2083
Discovery Experience, Broken Bay Pearl Farm, Mooney Mooney
A team visit to NSW's only pearl farm offers a scenic journey—both back in time and across the Central Coast. Their two-hour Discovery Experience begins with a beautiful boat cruise across the Hawkesbury River to see the pearl oyster leases, before returning to the Shellar Door, where you learn all about the history of pearls in Australia, from their Indigenous origins to their place in modern society. And of course, see some beautiful pearls and amazing jewellery.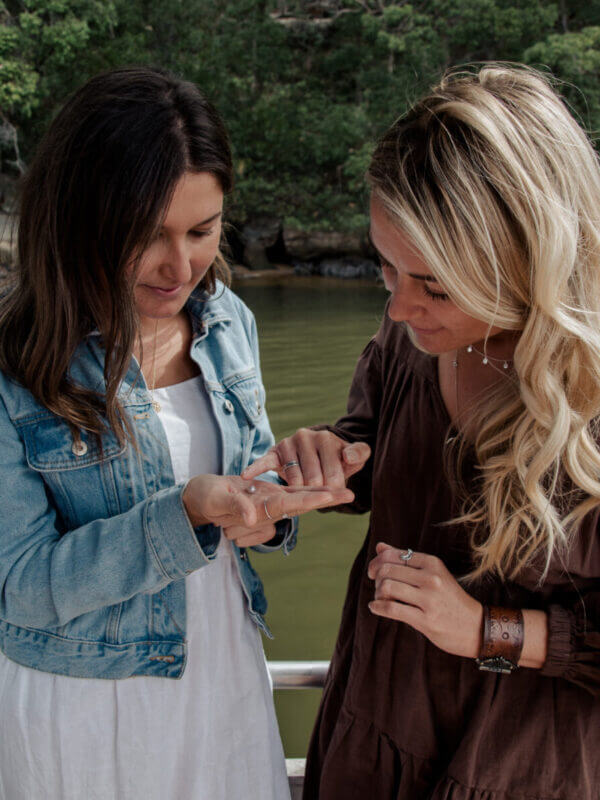 Keen to upgrade? You can also add in grazing lunches featuring local oysters, take-home pearls and optional sea-plane flights to get the lay of the land from above.
Broken Bay Pearl Farm, 12 Kowan Road, Mooney Mooney, NSW 2083
Paint & Sip, Pinot & Picasso Terrigal, Terrigal
Paint & Sip activities have certainly become en vogue for group bonding activities and it's easy to see why: they're low stress, fun events where everything is taken care of (apart from the drinks and snacks), so you can just show up, put on an apron and get to… work. Just around the corner from the Crowne Plaza Terrigal Pacific, Pinot & Picasso offer 2-hour team-building sessions during the day and private functions in the evening so you can pick a time that suits you.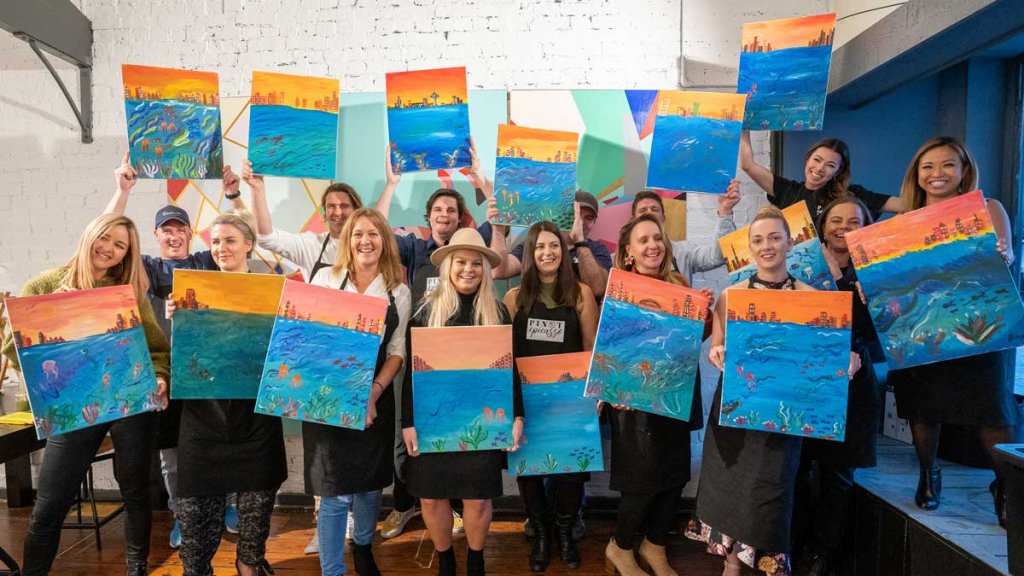 Don't feel like leaving the hotel? No worries, Pinot & Picasso can come to you! We'll just set you up in one of our function rooms, provide refreshments and let the sea view stir up your creativity even more.
Pinot & Picasso Terrigal, 2/6 Pine Tree Lane, Terrigal, NSW 2260
Gone Bush Adventures
Gone Bush offers a new take on outdoor team-building "a tailor-made experience designed to nurture, connect, inspire, transform and renew", where, as a group, you reconnect with nature, the planet and its people, with yourselves and each other.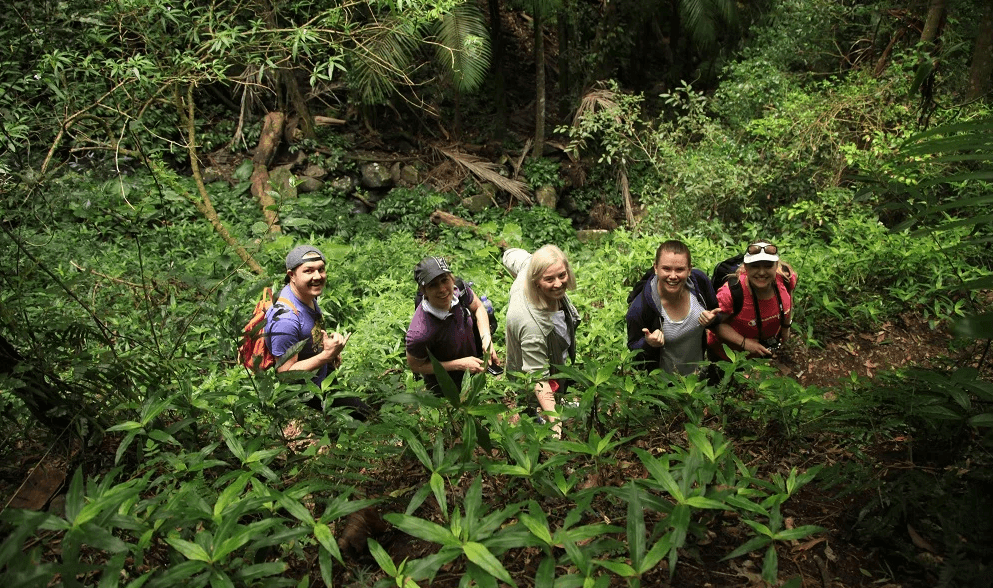 Led by expert guides and facilitators, you can opt for a 1-3 hour walking workshop or a half/full-day nature immersion day trip in one of our beautiful nearby national parks, like Bouddi or Brisbane Water.
Pinnacle Team Events, Terrigal
Pinnacle Team Events love creating fun team-building activities on the Central Coast so much it's literally in their name! Great for all types and sizes of business and corporate groups, Pinnacle offers entire day multi-experiences, from amazing races and Beach Olympics to Survivor-type challenges, along with Trivia or Casino Nights.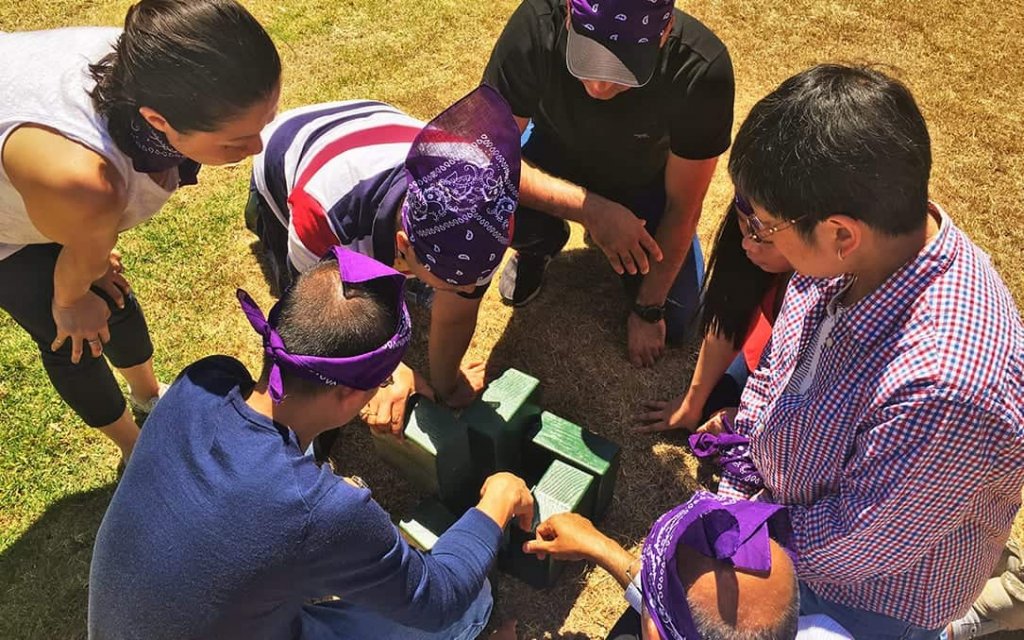 Here at the Crowne Plaza Terrigal Pacific, we can partner with Pinnacle to set up team challenges along the beautiful Terrigal beachfront or throughout our resort, providing a fun, interactive experience for everyone—and a cosy sanctuary to retreat to when all the fun and games are over.
Get in touch with our team to discuss your next meeting or event on the Central Coast