Bounded by lush national parks, rainforest hinterland and a spectacular coastline, the Central Coast is a dream for lovers of the outdoors. With some of the best spots only accessible by foot, it's no surprise that the area has become a hiking haven—though there are plenty of short walks offering 5* vistas, crystal clear waterfalls and secret beaches to choose from too.
With many of the Central Coast's best walks a short hop, skip or step away, the Crowne Plaza Terrigal Pacific is the ideal base for your Central Coast explorations—and the comfy beds, heated pool and spa provide the perfect R&R after a long (or short!) stroll. Read on to get inspired!
1 – Bouddi Coastal Walk
There are many reasons why the Bouddi Coastal Walk is probably the best walk on the Central Coast, like the shady rainforests trails of Bouddi national park, picture-perfect beaches and secluded bays, an old shipwreck, epic views, whale watching opps and great cafes on either end for a refuel, to name just a few. (Phew!)
Still, clocking in at 8 km one way, the Bouddi Coastal Walk might not be for everyone. While you can break it down into sections (see below), you could always just give it a go and let the power of the path—and the allure of post-walk sundowners at Terrigal Beach House—push you through. We promise it's worth it!
Start/end point: MacMasters Beach and Putty Beach
Distance: 8.5 km one way
Duration: 4 hours
Difficulty: Medium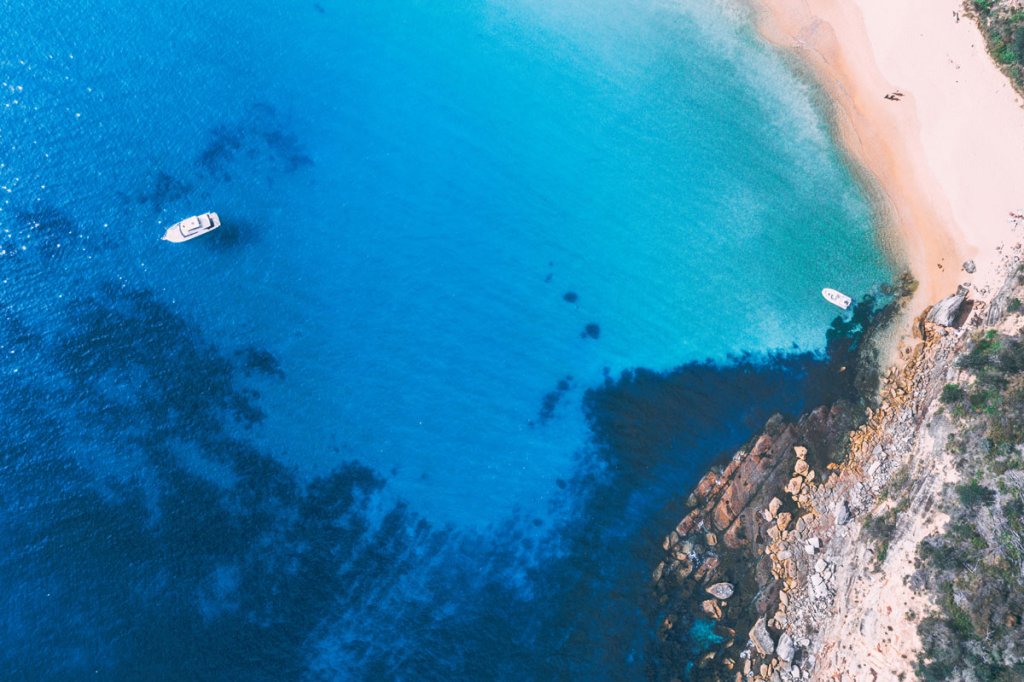 2 – Little Beach or Maitland Bay
Great for those who love the idea of the Bouddi Coastal Walk but don't fancy tackling the whole track, these shorter subsections of it offer a nice non-strenuous alternative to the big trail—and if you have time to do several of them, join them together and pat yourself on the back for doing the whole thing!
MacMasters to Little Beach is a nice easy kid-friendly trail leading to a picturesque sandy beach with a rocky stream and grassy headland, while Maitland Bay and its seemingly endless staircases are a little more strenuous, especially on the way back up. You also might want to time this one right—while the golden bay is worth visiting at any time of day, it's particularly great at low tide when you can visit its namesake shipwreck.
Little Beach
Start/end point: MacMasters Beach
Distance: 1.5 km return
Duration: <1 hour
Difficulty: Easy
Maitland Bay
Start/end point: Information Centre, Killcare Heights
Distance: 1.8 one way
Duration: 1 hour
Difficulty: Medium
3 – Terrigal Boardwalk – Terrigal Beach to The Haven
Hands down one of our favourite walks on the Central Coast—and not just because you can start it from right at our front door—the Terrigal Boardwalk is a short but stellar stroll offering beautiful views, idyllic swimming spots, rock pools teeming with marine life, world-class beaches and lush tropical greenery. Reward yourself with a halfway-point swim at The Haven before heading back for a dip in the pool. Days on the Central Coast don't get much better!
Start/end point: Crowne Plaza Terrigal Pacific, The Haven
Distance: 750m one way
Duration: <30 mins
Difficulty: Easy
View this post on Instagram
4 – Terrigal Lagoon to the Skillion
Feel like kicking the Terrigal Boardwalk stroll up a notch? Start off your walk at the Central Coast Marine Discovery Centre on Terrigal Lagoon and follow the shady path to where the lagoon meets the sea, before joining the boardwalk to The Haven and then continuing around the headland up to Skillion.
Power up to the top and be rewarded with epic views and a great vantage point to see dolphins and whales before channelling your inner child and rolling down the grassy hill to the bottom—or just walking, you do you.
Start/end point: Central Coast Marine Discovery Centre at Terrigal Lagoon, The Skillion
Distance: 3 km one way
Duration: 1 hour
Difficulty: Easy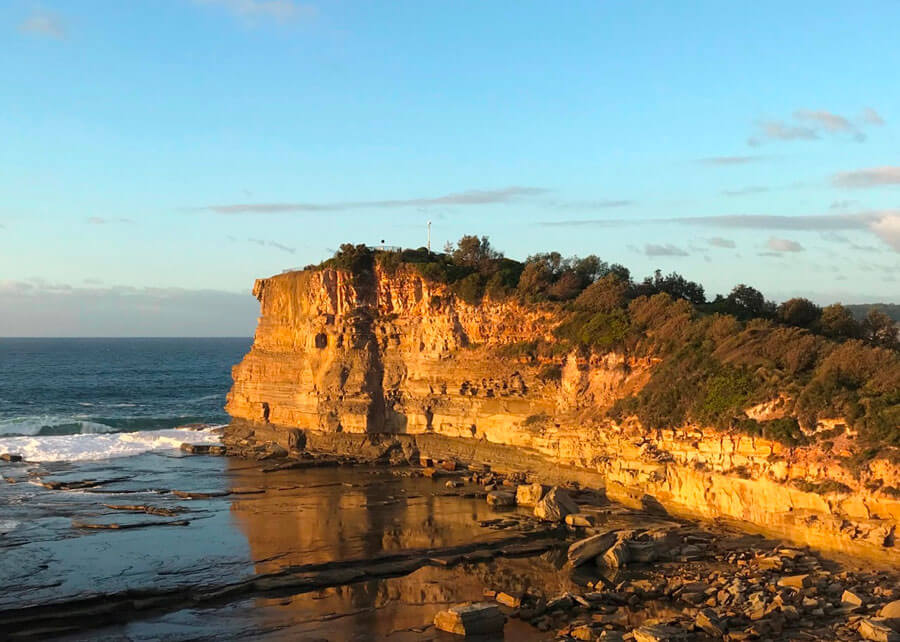 5 – Gosford Glyphs
Did you know that deep in the forests on the Central Coast lies a hidden gully whose sandstone walls are carved with rock markings that bear more than a little resemblance to Ancient Egyptian hieroglyphics?
One of the Central Coast's most unique and unexpected landmarks, visiting the Gosford Glyphs (also known as the Kariong Hieroglyphs) in Brisbane Water National Park is a bit of an adventure all in itself, involving a bit of a scramble over big mossy boulders and secret trails. While there are many rumours as to the origins of these mysterious symbols, there's no doubting they're worth the trek.
Start/end point: Woy Woy Road, Kariong
Distance: 2 km return
Duration: 1 hour
Difficulty: Medium – with a slight scramble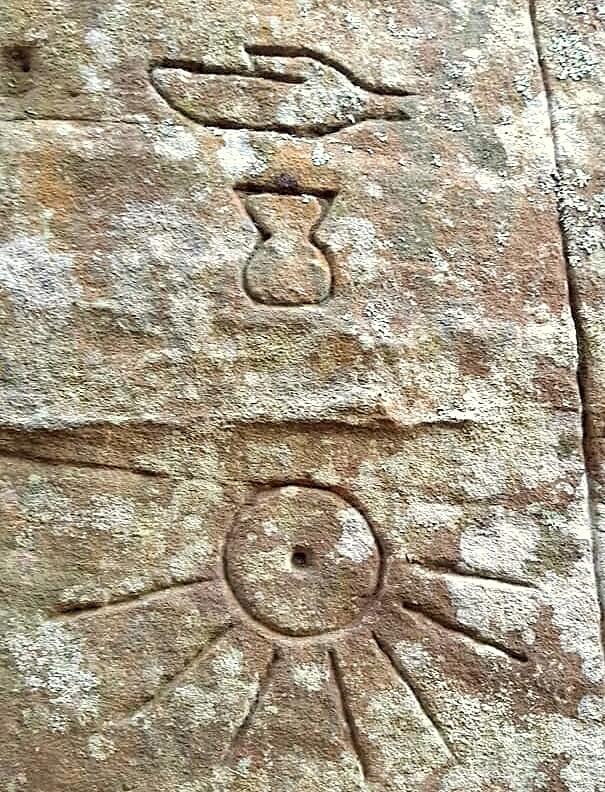 6 – Piles Creek Loop
If you fancy a side of forest bathing with your Central Coast getaway, you can't get much better than Piles Creek Loop, especially in spring when the waterfalls are in full flow and the wildflowers are in bloom. An extension of the shorter Girrakool Loop Track—which is still a great option if you're short on time—or a shortened version of the 8 km return Mooney Mooney Nature Walk, this shady bush walk meanders through the beautiful Brisbane Water National Park past caves and waterfalls to a stunning old suspension bridge spanning a rainforested gorge.
Start/end point: Girrakool Picnic Area, Brisbane Water NP
Distance: 4 km loop
Duration: 2.5 hours
Difficulty: Medium to challenging
7 – The Coast Walking Track
Also known as the Wyrrabalong Coastal Walk, The Coast Walking Track is another of the Central Coast's best walking trails, following the gorgeous coastline all the way from Forrester's Beach—just north of Terrigal—up to Bateau Bay (or vice versa).
The highlight of the trail is usually Crackneck Lookout, where you can spot dolphins, seals and migrating whales, though on a hot day it might be the well-deserved post-hike swim—so make sure you don't forget your bathers!
Start/end point: Forrester to Bateau Bay
Distance: 3 km one way
Duration: 1.5 hours
Difficulty: Easy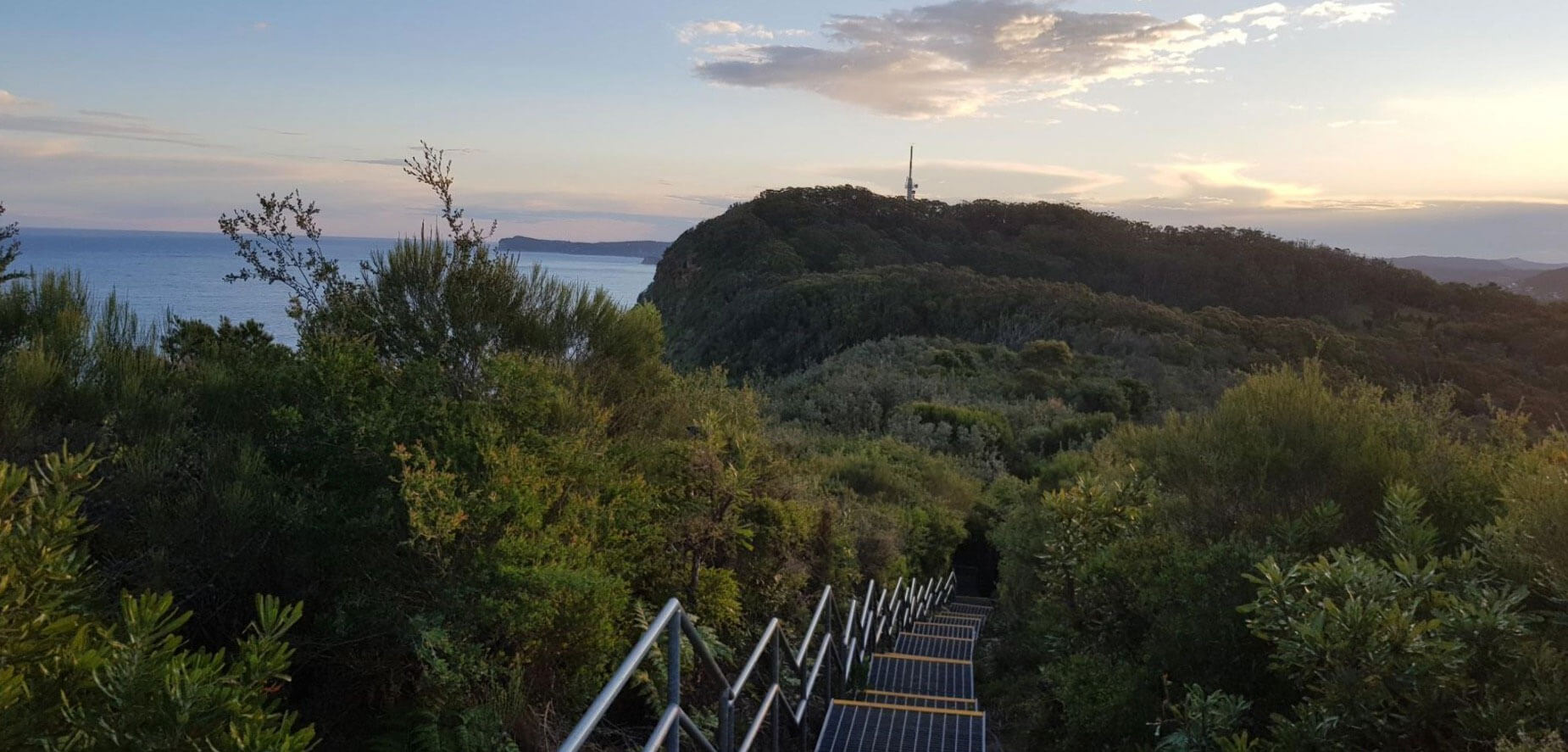 8 – 5 Lands Walk
Ever heard of a walk so wonderful that an entire festival has sprung up around it?! With a focus on "connecting people to people and people to place", the 5 Lands Walk is a 10 km "physical, spiritual and cultural journey" across 5 different coastal communities that finishes up right here in Terrigal.
While you can obviously walk the walk anytime you like, there is something truly magical about joining the 5 Lands Walk community and taking in all the ceremonies, art, music and food that make this region so special. Celebrating the Aboriginal roots of the land and the diverse and multicultural people who now call these villages home, the event—which takes place every June around the winter solstice—is a truly unforgettable way to experience the Central Coast in all its glory. Plus, there are great beaches, beautiful views, whale watching and free shuttle buses if you need to tap out early. Sign us up!
Start/end point: MacMasters Beach to Terrigal
Distance: 10 km one way
Duration: 4-6 hours
Difficulty: Medium

9 – Kariong Brook Falls
Move over Somersby Falls—okay fine, we're kidding, we'll always love you—but, if you're after a quieter and (possibly even) more picturesque waterfall walk, then you can't get much better than Kariong Brook Falls.
Located in the stunning Brisbane Water National Park, the hike is pretty spectacular on its own, with shady tracks traversing through dense bush filled with birds and wildlife. As you get closer, you'll hear the sound of running water before arriving at a clearing where the waterfall cascades down a rocky cliff face into a tranquil pool surrounded by overhanging trees. Visit after heavy rainfall to see it at its finest.
Start/end point: Staples Lookout
Distance: 5.8 km return
Duration: 2.5 hours plus swimming time!
Difficulty: Medium
View this post on Instagram
10 – Railway to Rainforest Walk, Rumbalara & Katandra Reserves
If you fancy exploring a little more of the Central Coast's stunning hinterland, the Railway to Rainforest Walk from Gosford train station to Seymour Pond rainforest is a bit of a hidden jungle gem. Best visited in spring when all the flowers are out—but still beautiful the rest of the year too—the 11 km walk winds its way from Gosford Railway Station up to the rainforested groves at Seymour Pond before returning via Graves Walk and the Mouat Trail. Plus, if you don't feel like tackling the whole thing there are plenty of shorter trails in the reserves too.
Start/end point: Gosford Railway Station
Distance: 11 km return
Duration: 4-6 hours
Difficulty: Medium to hard
View this post on Instagram
11 – Kincumber to Terrigal via Glassons Trail
Another hinterland treasure rising up behind Terrigal, the Kincumber Mountain Reserve is a nice nature spot only about 20 minutes drive from the hotel. Combining the Kanning Cave Walk and the Yanina Walk, the Kincumber to Terrigal Walk encompasses the cool sandstone caves with the striking panoramas of Colin Watters Lookout, before descending into the outskirts of Terrigal town.
Start/end point: Kincumber Mountain Reserve, Terrigal
Distance: 4.5 km one way
Duration: 2 hours
Difficulty: Medium
View this post on Instagram
12 – The Entrance Coast to Lake Walk
Just north of Terrigal, The Entrance may be best known for its pelicans and ocean pool, but the Coast to Lake Walk should be up there too. Whatever your interests, this walk has you covered—think ocean, lagoon, jetty, town sights and the famous sea baths. While it's a pretty pleasant stroll with plenty of opportunities for ice cream and coffee breaks, if 7.6 km still feels like too much, no drama, it's easy to break the loop down into more manageable sections too.
Start/end point: The Entrance
Distance: 7.6 km return
Duration: 1.5 – 3 hours plus swimming time!
Difficulty: Easy
View this post on Instagram