A perfect weekend on the Central Coast Makers Trail
Over the last few years, we've witnessed a surge in the number and quality of independent food and beverage producers on the Central Coast, making the region a must-visit for foodies seeking a new adventure full of once-hidden gems. However, uncovering these spots has been made considerably easier thanks to an initiative called the Central Coast Makers Trail, a self-indulgent food and drink discovery trail that will thrill you with new sensations and behind-the-scenes experiences.
We followed Central Coast locals Steph and Dean as they hit up three unique stops on the trail during a recent stay at Crowne Plaza Terrigal Pacific. It was sensational day out, with picture-perfect weather and a fascinating look behind the scenes of some of the Coast's most 'Instagrammable' foodie adventures.
---
Stop 1: Sydney Oyster Farm Tours
Sydney Oyster Farm Tours is the brainchild of Director Sheridan Beaumont, who after 17 years helping her dad run the family's oyster farm, decided to offer boat-accessed tours and dining experiences at their lease on the Hawkesbury River (Broken Bay oyster farm). Tours start from Mooney Mooney, at the northern end of the Hawkesbury River Bridge, and allow visitors to taste their famous Broken Bay oysters, meet second and third generation oyster farmers, and visit other leases.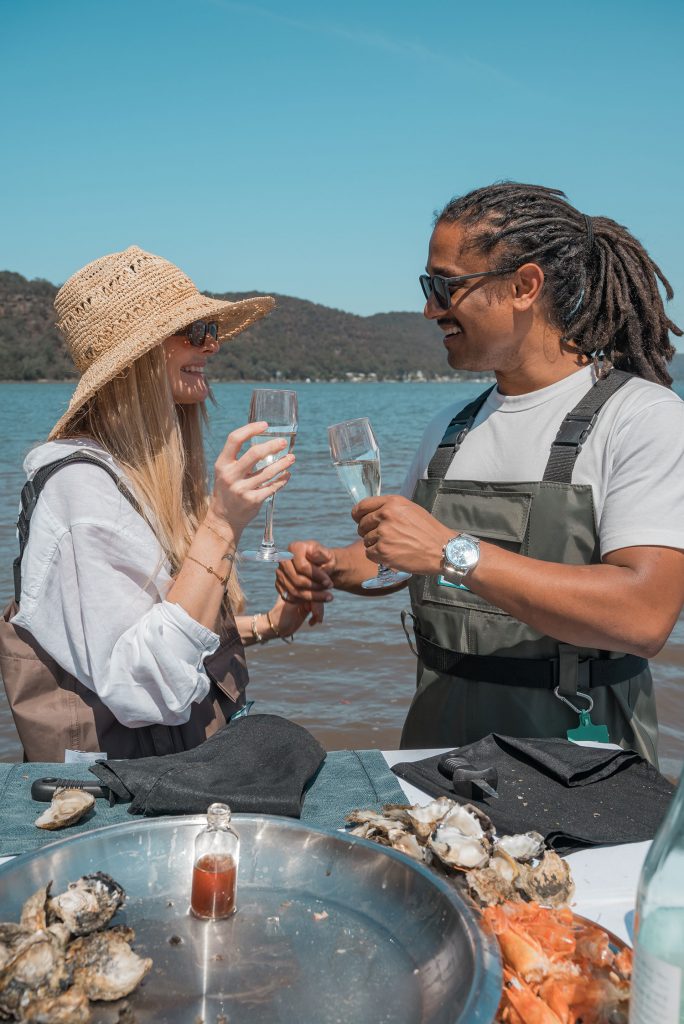 The company's flagship tour is their "Immerse Yourself" experience, an in-water dining experience (New South Wales' first ever!) which sees visitors submerged to their knees in a pair of waders, while enjoying a glass of sparkling, prawns and "the freshest oysters you've ever tried".
Steph & Dean's visit:
Steph and Dean had a superb afternoon out on the water and had the following to say about the experience:
"[The "Immerse Yourself" tour] was definitely an incredible experience! I'd recommend this to anyone and everyone, especially seafood lovers and those on a date! It was lovely to be in the Hawkesbury with all the beautiful scenery. The tour itself was very insightful – we learnt a lot about the history of oysters within the river.
"The setup of the tables in the water were even more spectacular to see in real life, the oysters and prawns were so fresh, peeling them back and cracking them open ourselves. Complemented with a bottle of bubbles, it was the perfect date scene."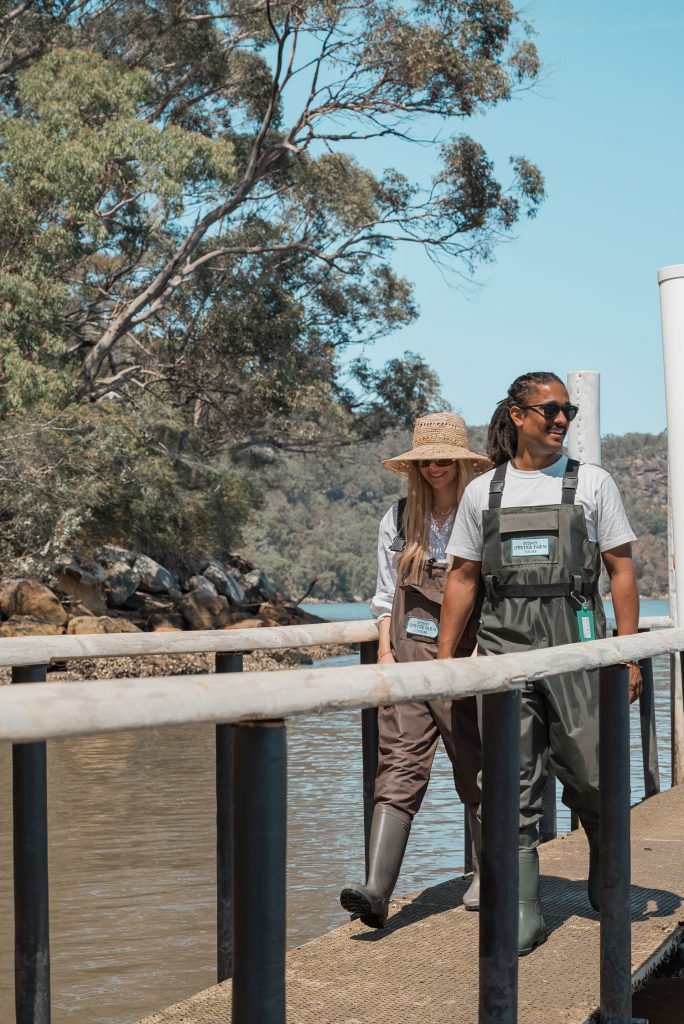 Our tip
If you're travelling to the Central Coast from Sydney, consider breaking up your journey with a Sydney Oyster Farm Tour. Mooney Mooney is located roughly half way between Terrigal and Sydney CBD, the perfect excuse for some fresh air and fresh seafood.
Stop 2: Block 'N Tackle Brewery
For lovers of all things beer, Kincumber's Block 'N Tackle Brewery is a must-visit. The site features a taproom with 12 taps and a traditional English hand pump, with a huge variety of beers rotating all year round. All beers are brewed on site and in full view from the taproom, with a core range that includes the Kinny Lager, Scud Extra Pale Ale, Rock Lily Pale Ale and Jon Piper American IPA – several of these paying tribute to the Coast's rich shipbuilding history.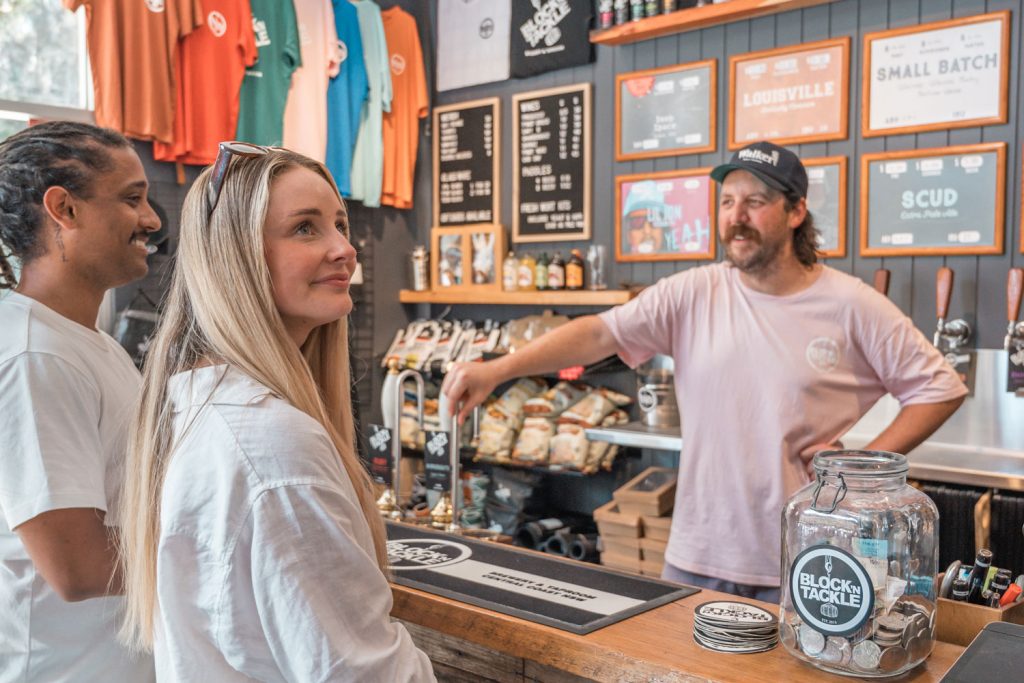 In a recent chat with brewery owner Paul Wakelin, Paul revealed a pride for producing small-batch beers and encouraging customers to get out of their comfort zone.
"We like to have something different to the norm and enable our customers to experience styles of beer they may have never had, heard of or be able to try unless they go overseas. We encourage taking the time to get a tasting paddle and trying something new."
Steph & Dean's visit:
On their visit to Block 'N Tackle, Steph and Dean were quick to heed Paul's advice, taking a quick tour of the brewery before settling into a tasting paddle of different beers, washed down with one of the venue's famous grazing boards.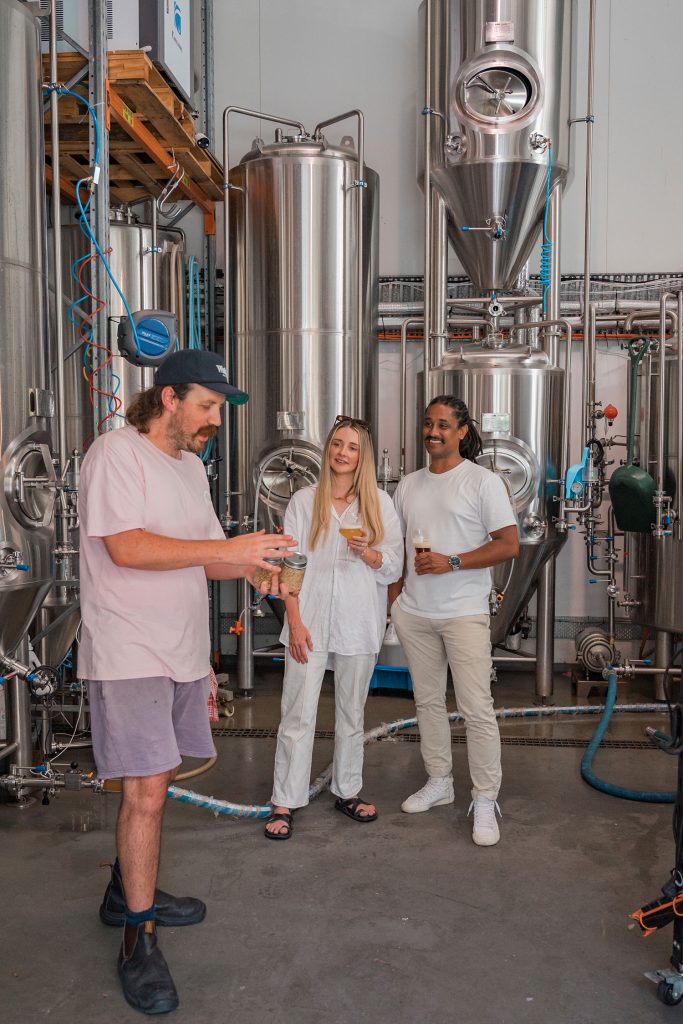 "This experience was especially fun for Dean, who really enjoyed the brewery tour!", says Steph. "We learnt all about yeast and the process of making beer. The brewery had games that we could have some fun with over our beer tastings, Alex the host was awesome – his love for making beer shone. The charcuterie board was deliciously matched with our beers. A place you could bring some friends and have a laugh."
Our tip
If you're short on time and can't hit as many stops on the Central Coast Makers Trail as you'd like, Block 'N Tackle Brewery serves as the perfect opportunity to knock off two unique Central Coast foodie experiences in one go. Block 'N Tackle's Beer and cheese paddle comes with four of their core range beers and is paired with samples of Little Creek Cheese – another amazing local producer.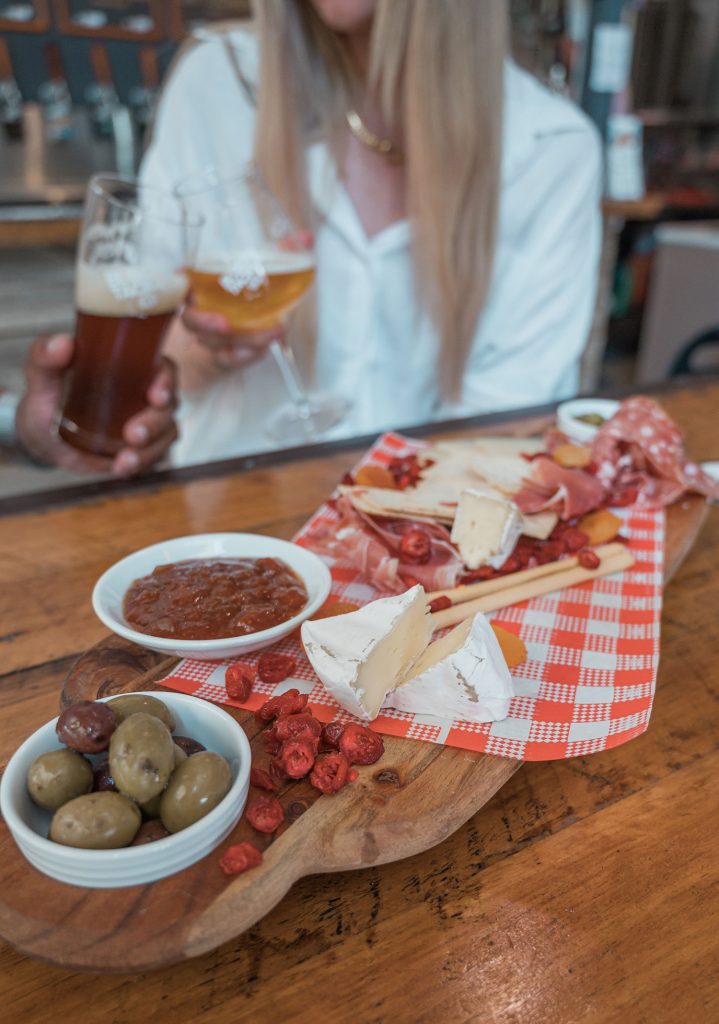 Stop 3: Firescreek Botanical Winery
Firescreek Botanical Winery is all the evidence you need that the Central Coast is more than just beautiful beaches. Set upon 2.5 acres of gorgeous organic gardens, winery owners Nadia and Francis O'Connell grow more than 30 species of fruit, 40 species of roses and countless other botanicals that go into producing more than 25 different wines – which feature flavour pairings like elderberry, cinnamon and orange, or coffee, chocolate and blackcurrant.
"The most common comment I hear from customers is 'WOW'", said Nadia in a recent chat with Crowne Plaza Terrigal Pacific. "They typically have not tried wines made from anything but grapes before and are surprised by the delicious flavour combinations and the taste of the wine."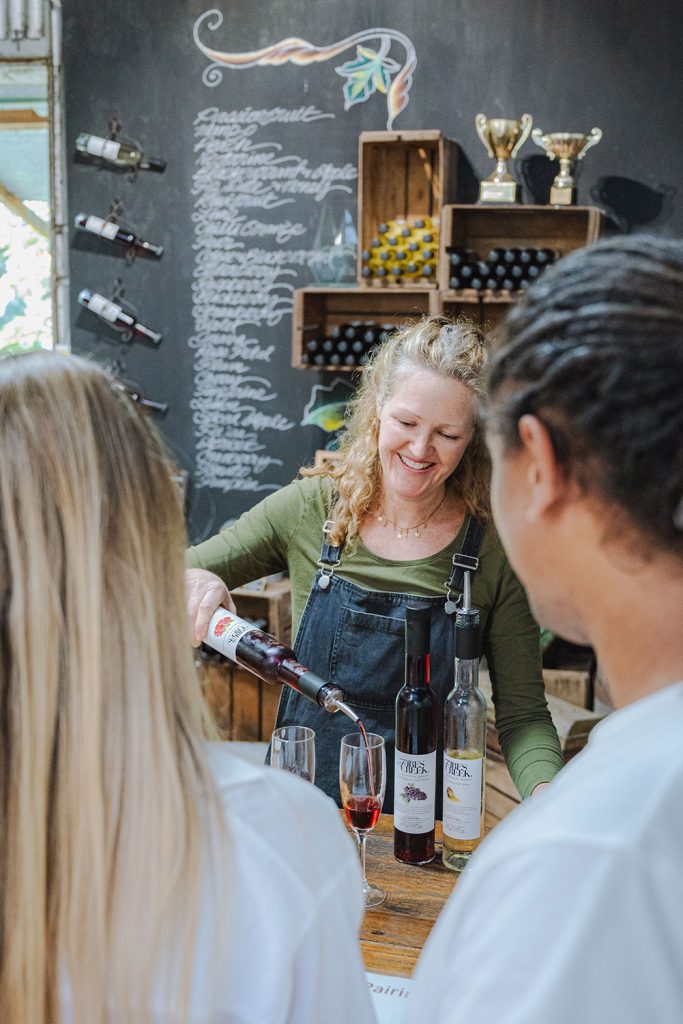 The winery offers complimentary tastings and the opportunity to view the production area, which is best followed by a picturesque stroll through the gardens, past lily ponds, fresh produce and a calming rainforest backdrop. Firescreek also offers several bookable experiences, including a tantalizing chocolate and wine pairing experience.
Steph & Dean's visit:
Steph and Dean were completely taken aback by their experience at Firescreek – the perfect way to wrap up a day on the Central Coast Makers Trail.
"Wow this place was so enchanting and beautiful!", says Steph. "Gorgeous vines, edible flowers and picnic areas. We sat in a pretty gazebo and played around with some of the wines – they were subtly sweet and made from various fruits other than grapes.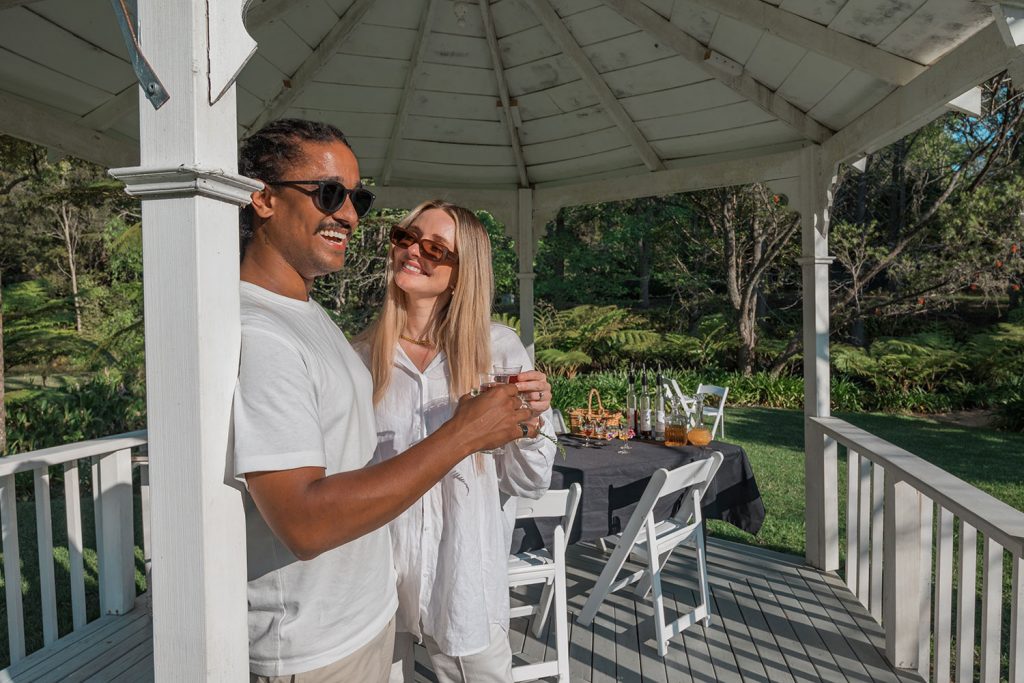 "Paired with gorgeous flowers, it was a pleasure to get creative. Nadia the owner was a wonderful host, teaching us how the wines were made, and talking us through their process as we tasted each of them.
"We are excited to go back again soon and try the wines paired with their homemade chocolates!"
Our tip
Firescreek wines can be bought on site and make for the perfect gift to take home to a friend or family member.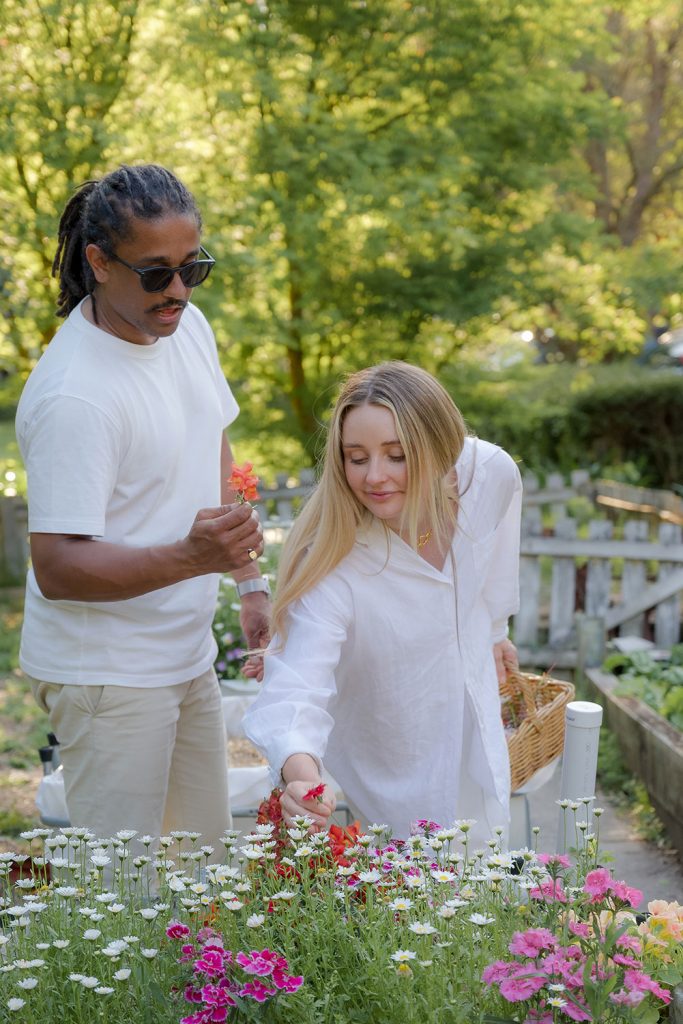 Where to stay
Steph and Dean stayed in an Ocean View Room at Crowne Plaza Terrigal Pacific, which featured its own private balcony and picturesque views of Terrigal Beach.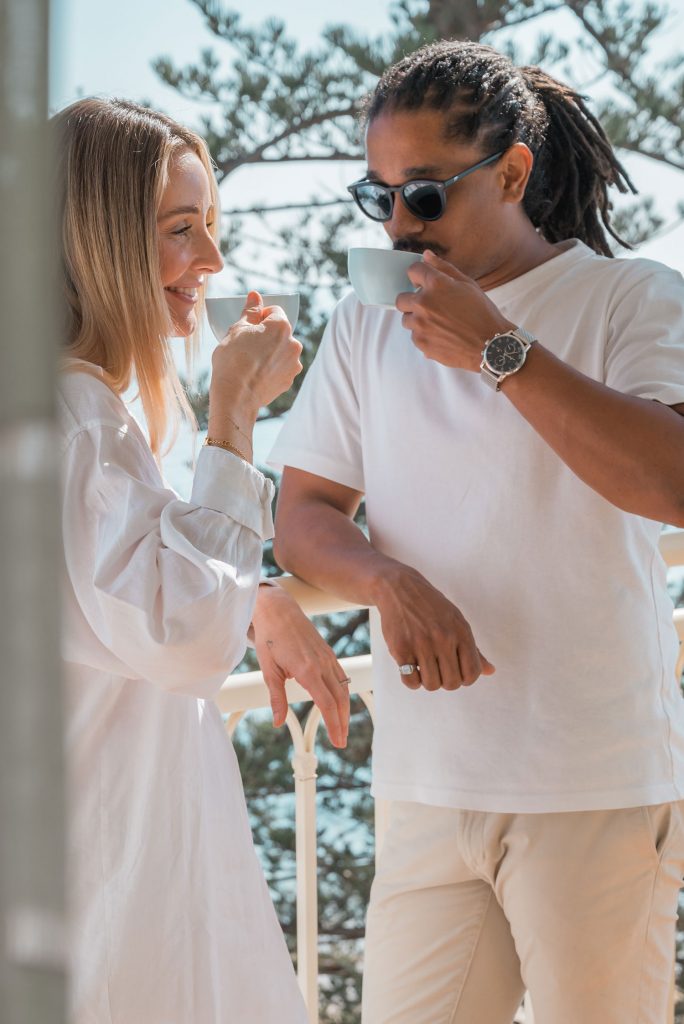 "Our recent stay at The Terrigal Crowne Plaza Hotel was outstanding", says Steph. "The staff were incredibly welcoming, the room was airy, breezy and spacious. I particularly loved the pool-side service where we could lay in the sun and enjoy the menu. The location was perfect, with stunning ocean views and easy access to the beach and the coastal walkway where our kids can swim. The buffet was a highlight, with all of our favourites, prompting us to go for round 2!"
"The staff were very friendly and accommodating, providing us information about nearby restaurants."
Central Coast Makers Trail
To learn more about the Central Coast Makers Trail visit centralcoastmakerstrail.com.au.