Halfway between Sydney and Newcastle, NSW's Central Coast is a little pocket of paradise, where fir-lined paths and coastal boardwalks meet golden sand, surf and turquoise lagoons and cafes and boutiques bring a level of cosmopolitan cool to the stunning scenery. Dig a little deeper and you'll find an amazing spot for a family getaway, with hidden waterfalls, epic obstacle courses, wildlife sanctuaries, chocolate factories, breakfast feasts with alpacas and so much more.
Worthy of more than a day trip, why not treat yourself and the kids to a stay at the Crowne Plaza Terrigal Pacific? A great school holiday base, we have interconnected rooms, a heated pool, evening entertainment at our Kids Zone and some of the best family-friendly activities on the Central Coast right on our doorstep.
Meet the world's crankiest croc, feed roos and cuddle koalas at the Australian Reptile Park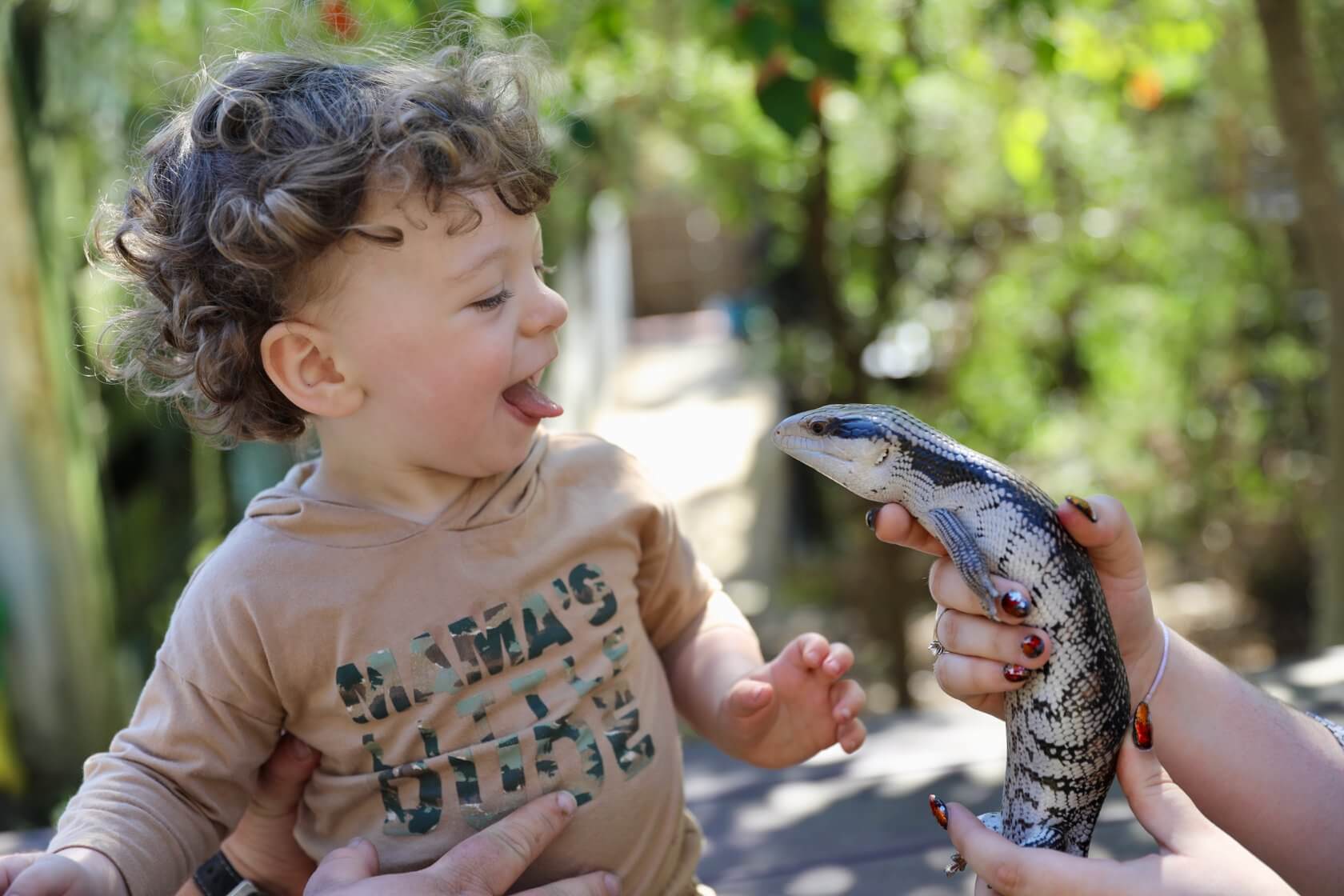 A must-visit spot on all Central Coast itineraries, the Australian Reptile Park isn't just for lizard lovers or Crocodile Dundee wannabees – though the Reptile Show and the Hard Croc Cafe are definite highlights. Opened in 1948, the park is home to some of Australia's cutest creatures, like kangaroos, koalas, quokkas and Tasmanian devil joeys, as well as life-saving spiders and snakes that they milk to make anti-venom. It turns out learning can be fun!
Schedule in some beach-time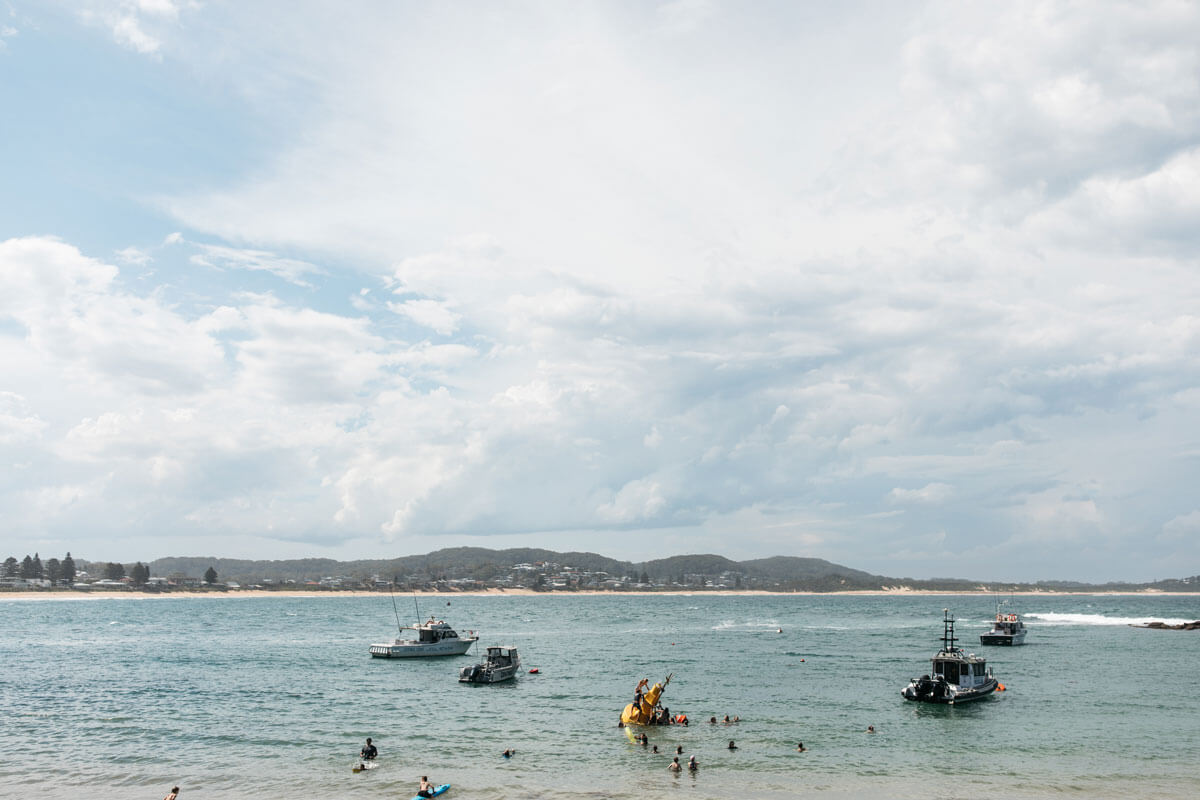 There are many great things about staying at the Crowne Plaza Terrigal Pacific, but one of the best is being able to roll out of bed and hit the beach. While there are plenty of awesome beaches to choose from, we love The Haven — a gloriously sheltered bay perfect for building sandcastles and splashing around. An easy stroll from the hotel, you can also grab a coffee and some brekky from the cafes on the way.
Climb, swing, fly and bounce your way through the tops of the trees at Treetops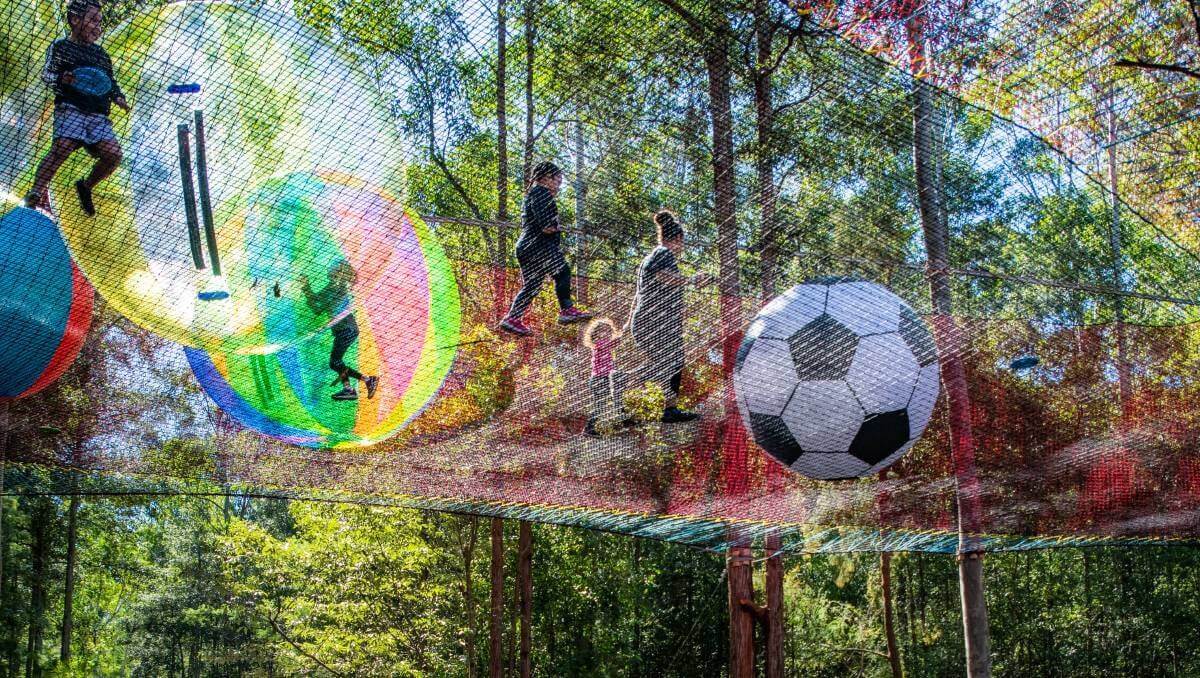 Quite possibly one of the best activities on the Central Coast for kids and big kids alike, Treetops offers an array of aerial adventures in the scenic Ourimbah State Forest. Suitable for kids aged 3 and over, take your pick from an array of activities including obstacle courses, epic zipcoasters and what is possibly our favourite — a bright and colourful bouncy extravaganza high up in the towering gum trees known as Networld. Or, just go early to try and squeeze them all in!
Discover the wonders of the ocean at the Central Coast Marine Discovery Centre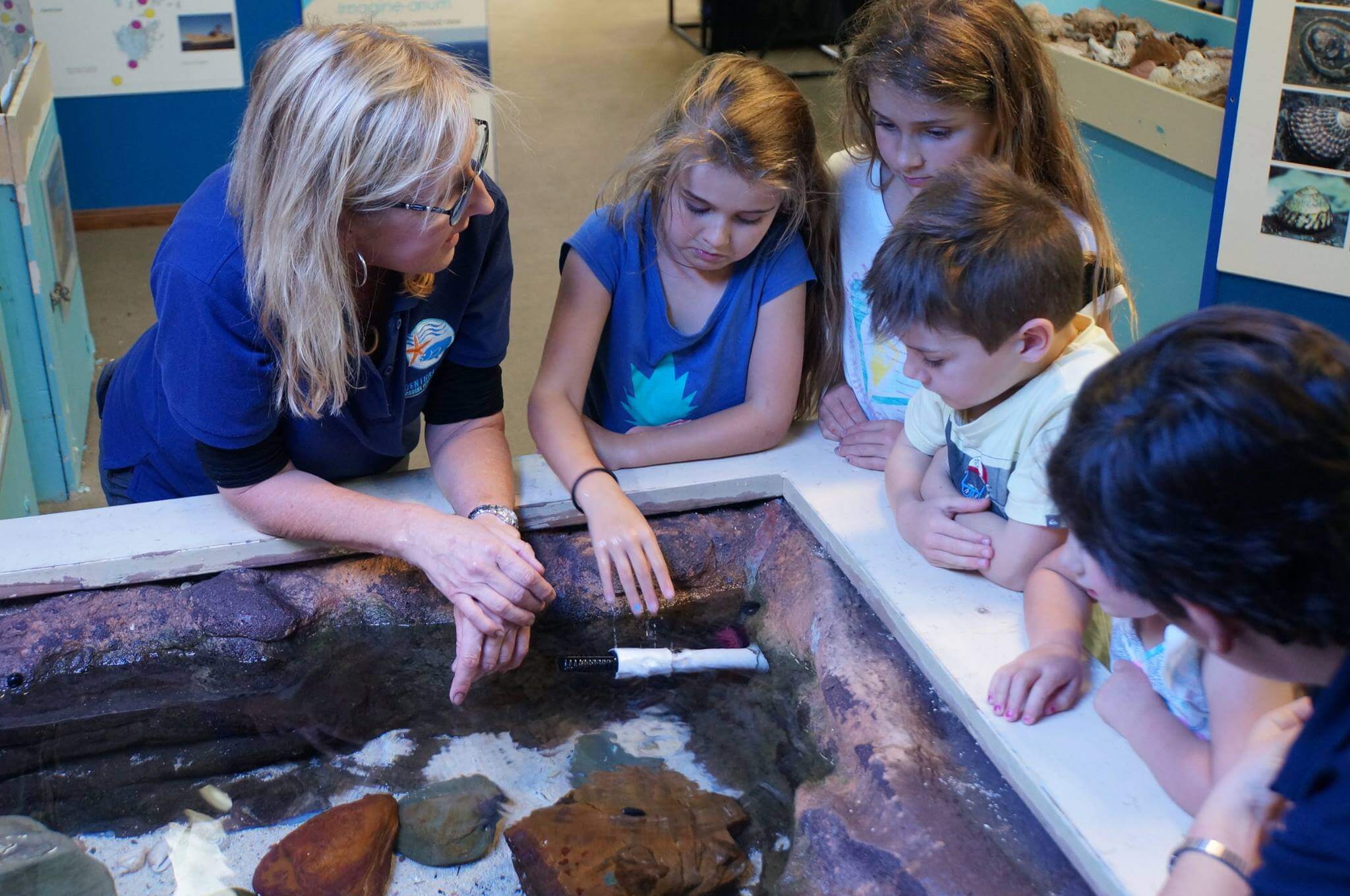 While the rock pool just across from the Crowne Plaza Terrigal Pacific can be a fun spot to search for sea life, the Central Coast Marine Discovery Centre kicks it up a notch. Small yet mighty, this volunteer-run establishment allows families to come face to face with some of the creatures of the deep while learning about the ocean and how it shapes our place in the world. Don't miss the free arts and crafts and the pirate ship-shaped playground and cafe next door.
Feel like putting this newfound knowledge to the test? Grab some goggles and head to one of the best snorkelling spots on the Central Coast, Copacabana Beach.
Enjoy a breakfast feast with the alpacas at Iris Lodge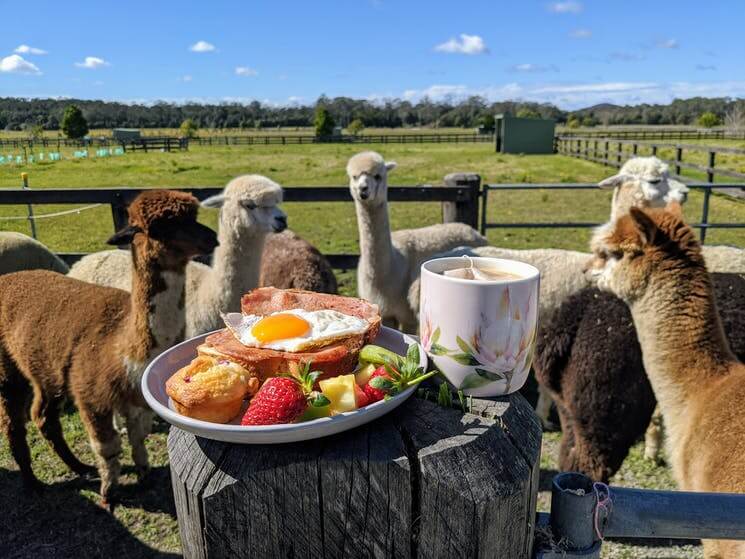 Make breakfast the most exciting meal of the day with a fancy morning feast shared with the alpacas at Iris Lodge. A truly unforgettable treat for both breakfast and animal lovers — with over 60 alpacas along with sheep, cows and horses — Iris Lodge also offers afternoon feeding time and meet and greet sessions throughout the day too if getting out of bed early sounds a little too hard. You are on holiday, after all!
Go for a swim at Somersby Falls and swing by Mangrove Mountain for a game of Footgolf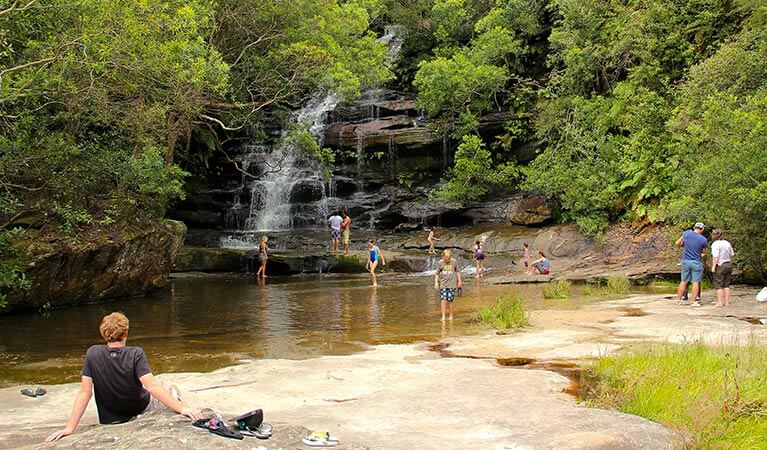 Part of Brisbane Water National Park, Somersby Falls is a popular picnicking and swimming spot ideal for cooling off on a hot summer's day. Just a short walk from the car park, let the sound of the cascading waterfall guide you as you follow the track through the rainforest with your eyes peeled for tropical birds, goannas and water dragons.
When you're all natured out, extend the fun with a trip to Mangrove Mountain Memorial Club & Golf Course for a family game of FootGolf — it's just like golf but you use footballs as the balls and your feet as the clubs!
Treat the family at Terrigal Beach House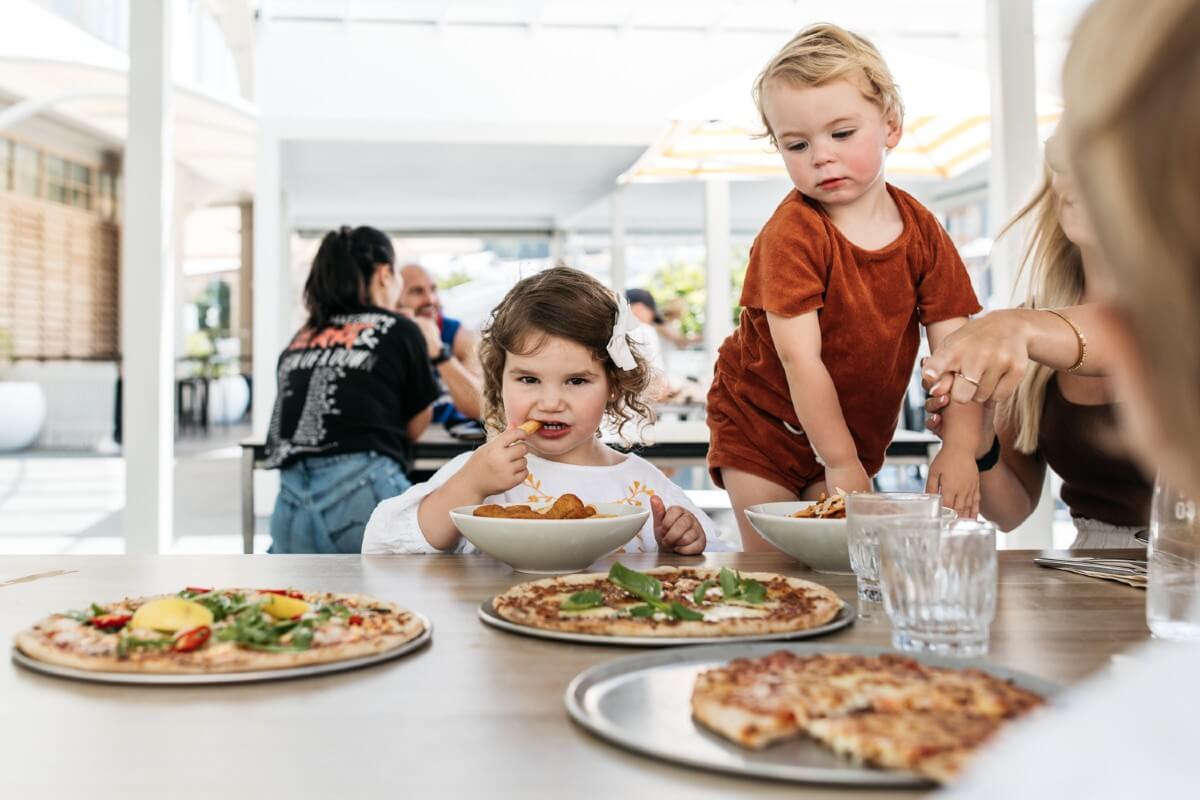 Overlooking the mesmerising waters of Terrigal Beach, Terrigal Beach House is the perfect spot to relax after a busy day exploring or for a post-swim pick-me-up. Grab a table under an umbrella or cabana in the beer garden, take your pick of tasty dishes from the locally sourced menu and kick back with a cocktail or a glass of wine while the kids enjoy ice-cream and soft drinks. Offering live music during the summer months and chilled out vibes all year round, this is one of the best places on the Central Coast to sit back and soak up the sun and enjoy the sea breeze.
Continue your outdoor adventures at Glenworth Valley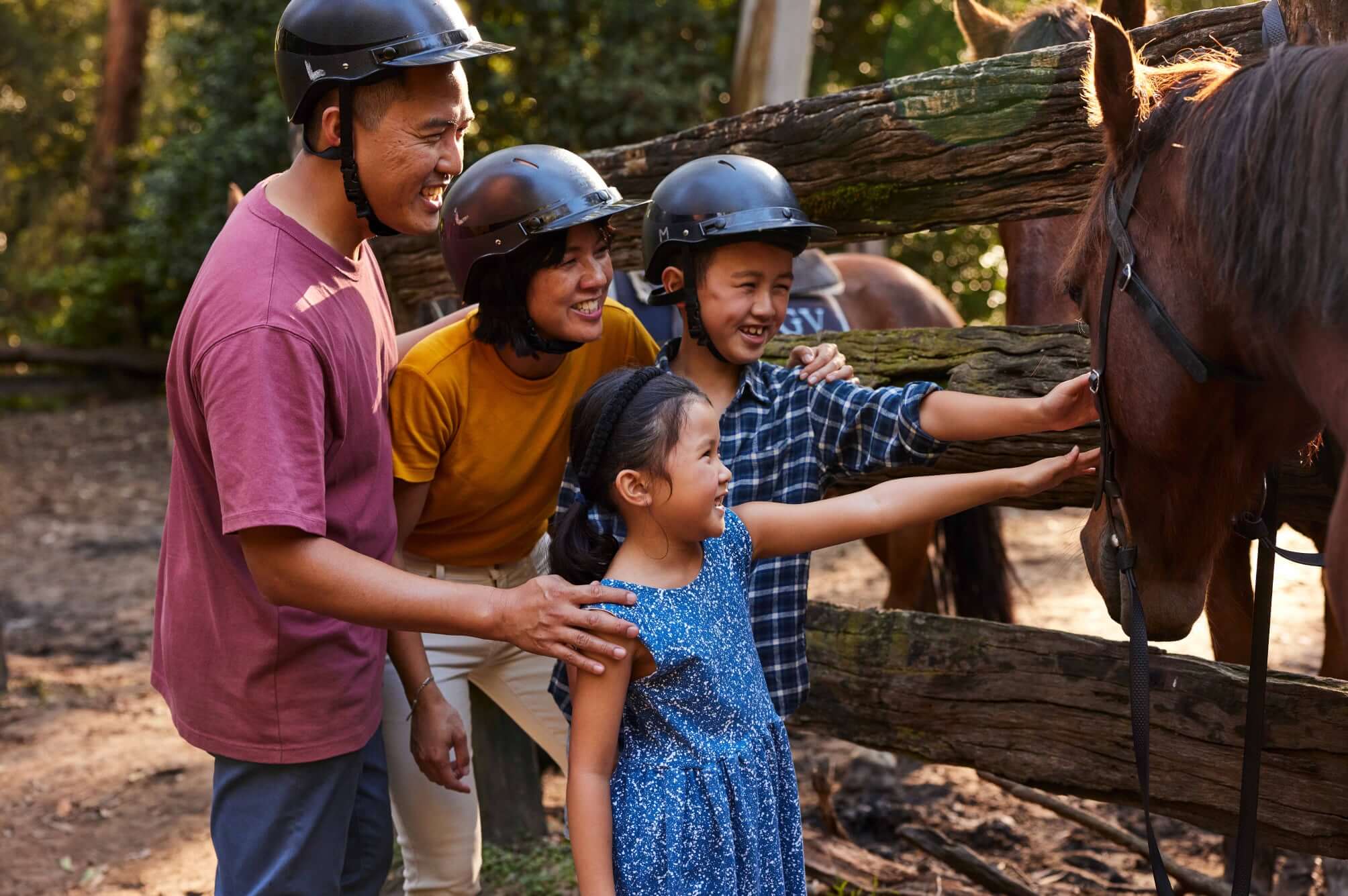 The Central Coast might be known for its awesome bush walks and natural beauty, but Glenworth Valley takes it to the next level, offering horse riding and quad biking through rainforests and across creeks, kayaking through mangroves and wild landscapes, swimming in natural pools, abseiling down ancient rock faces and epic games of laser tag in the wilderness.
Whether you come for an adventure or just swing by for a picnic, don't miss the daily Running of the Horses — a super impressive spectacle where their 200 horses 'clock off from work' and race through the river and across the valley to their grazing paddocks.
Be the real-life star of your own video game at VrRoom Central Coast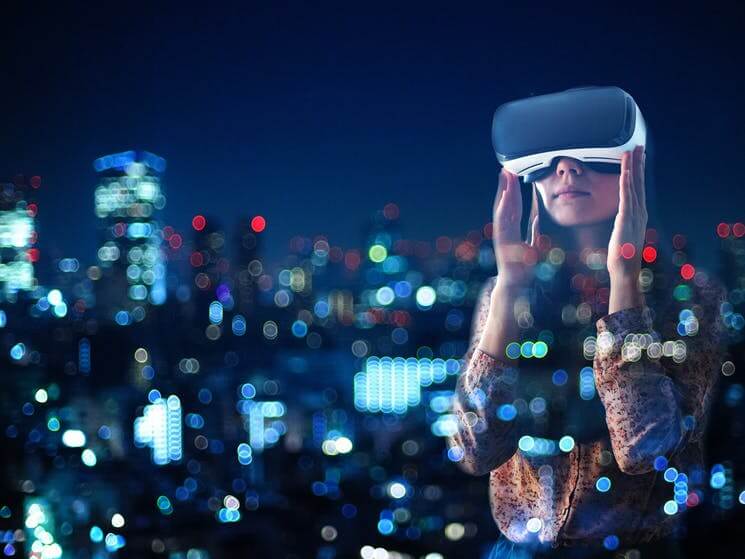 An awesome activity for rainy days — or any day really — VrRoom in The Entrance offers kids and adults alike the chance to jump in their favourite games, travel around the world, visit museums (OK, maybe that's one for the grown-ups) down into the depths of the ocean or out into space, join an escape room and work together as a family to solve puzzles. Almost anything you can do in reality, you can do here on the Central Coast in virtual reality!
Hop on a wildlife-spotting cruise and keep your eyes peeled for dolphins, seals, penguins and whales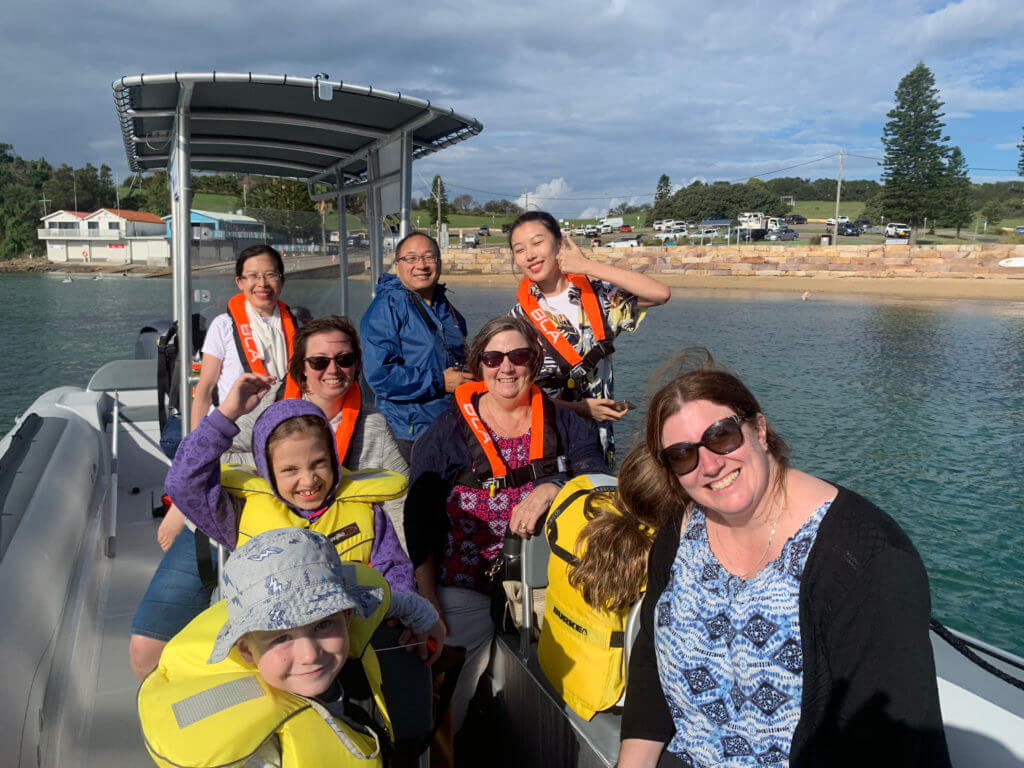 Not only is the Central Coast's coast perfect for beach walks, swimming, surfing and relaxing, it's also home to an abundance of life – like dolphins, seals and whales. Although whale watching tours only operate from May to early November, Terrigal Ocean Tours offer year-round trips out through Broken Bay where you can cruise alongside dolphins and seals and say hi to some little penguins.
Land-lovers can also get in on the action by heading up to the lookout on top of Skillion and scanning the seas from up high to make an extra exciting game of 'I Spy'. Bonus points for bringing binoculars!
Relax and refuel at the Wyong Milk Factory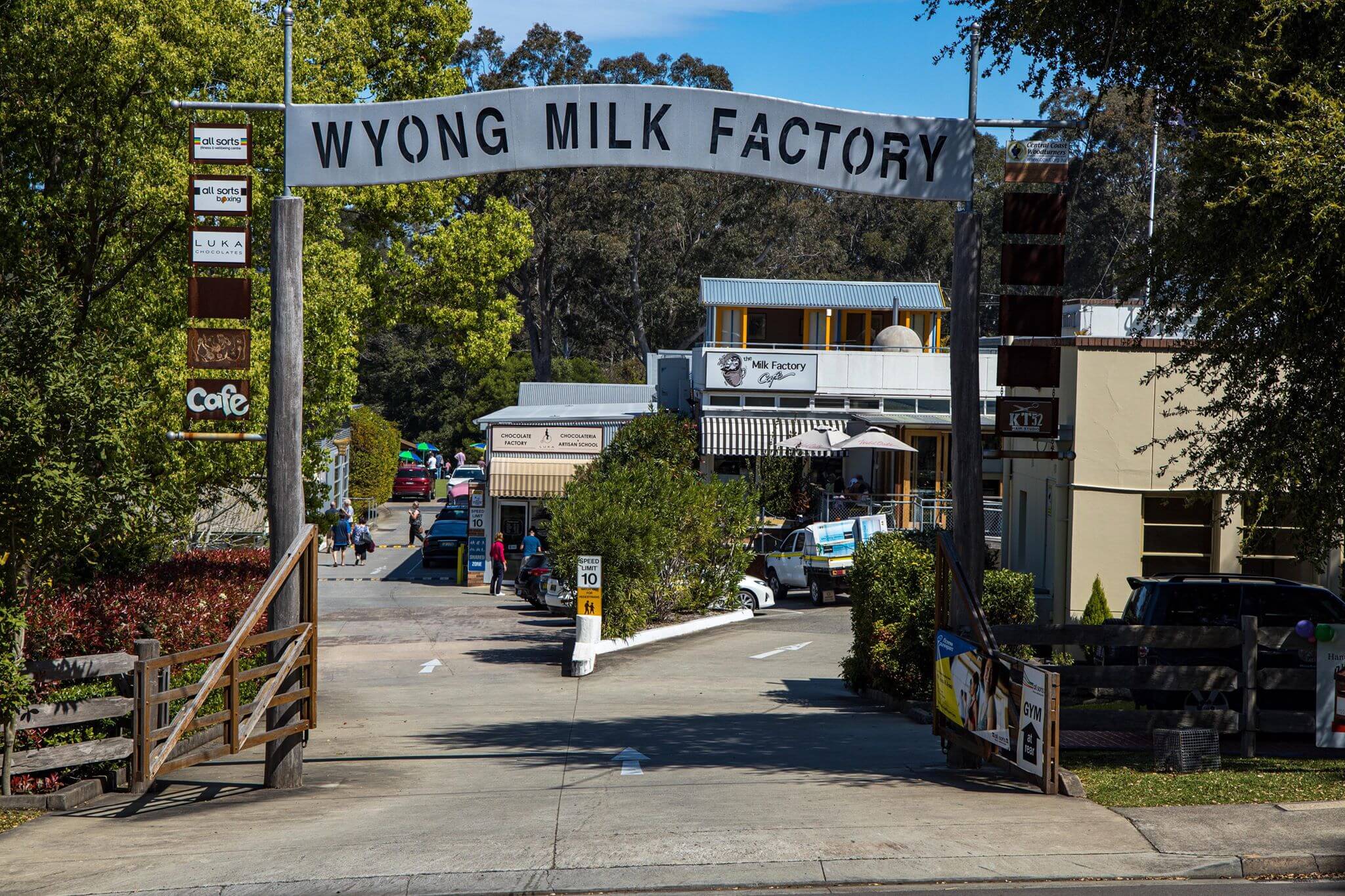 While you might be wondering what the buzz is around a milk factory, this historic landmark might just surprise you. First built in 1906 as a butter factory, Wyong Milk Factory is now a thriving community hub with cheese and chocolate factories, a cafe, playground, a family tavern, a salon and a gym set beside a river with rowboats and kayaks — talk about something for everyone.
Hire out a BBQ boat and cook yourself up a feast on the Central Coast's waterways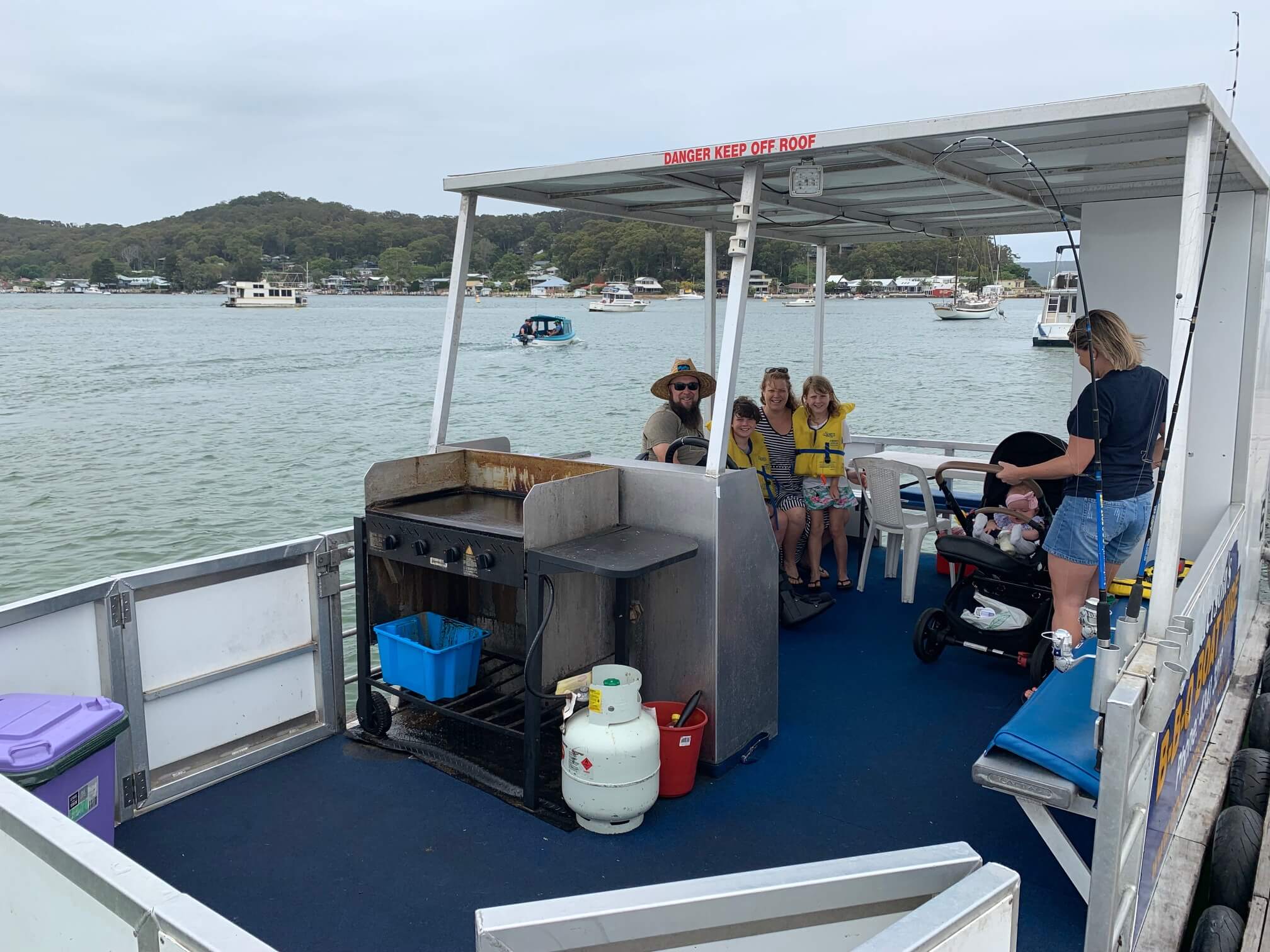 Boats, crystal clear water and BBQ sounds like a recipe for a perfect day here on the Central Coast. Casting off from Goslings Marina, each of these BBQ boats can hold up to 12 people and includes a toilet along with everything you need for a fun day out, just BYO food, drinks, bathers and sunnies! Oh, and the best bit? You don't even need a skippers' ticket!
Spend a day at The Entrance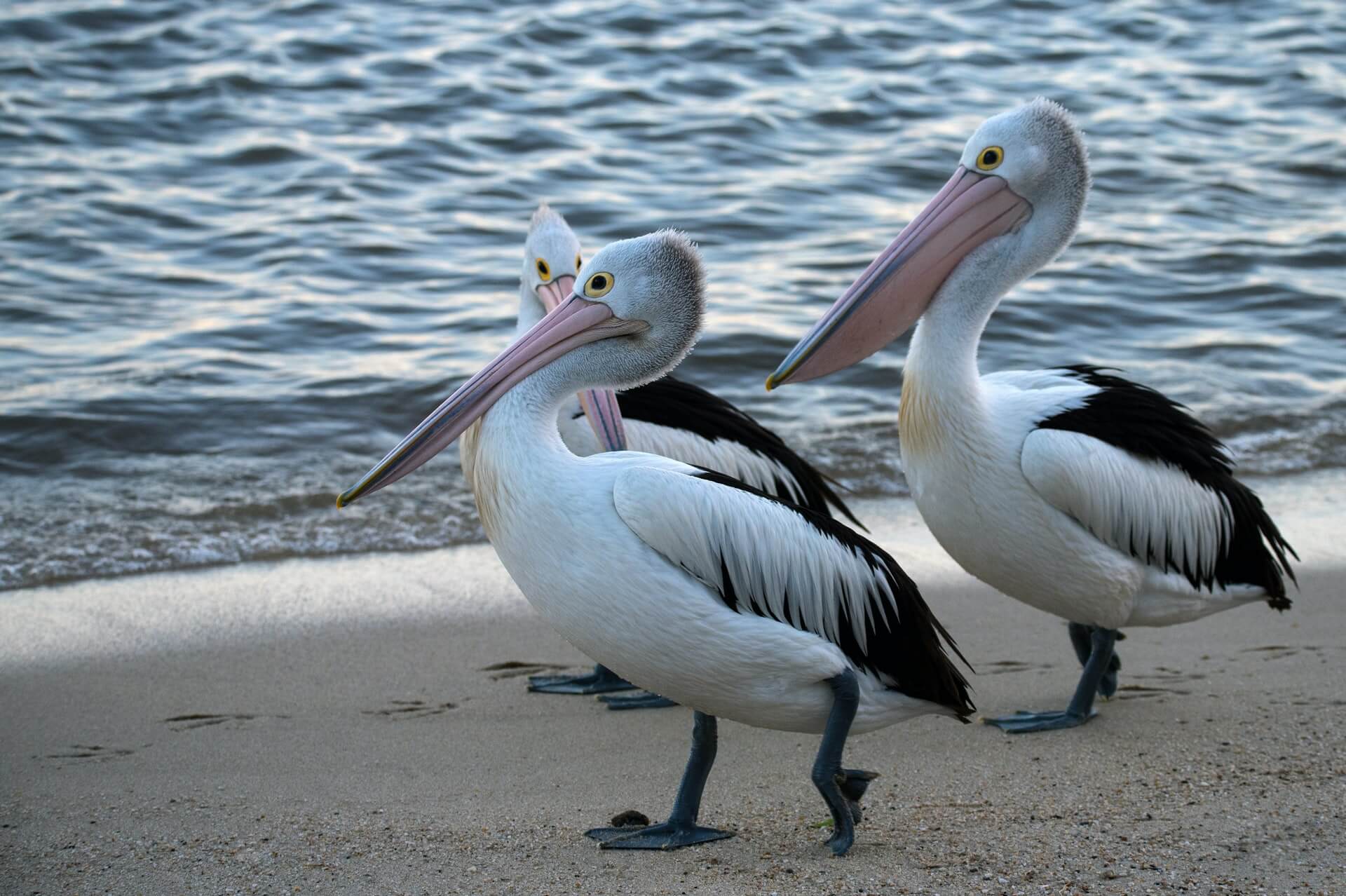 Twenty minutes up the coast from Terrigal, The Entrance offers a plethora of activities sure to delight kids of any age (yes, big ones too.) Pelican feeding might take the top prize, but there are plenty of other great attractions too, including a water park, skatepark, 19th-century German carousel — which has a buzzing carnival-like atmosphere during the school holidays — and a free ocean bath if you feel the need to cool off after all that excitement.
Go for a bushwalk to the beach in a local National Park
We love the beautiful national parks surrounding us here on the Central Coast — home to pristine empty beaches, Aboriginal sites, shipwrecks, whale, dolphin and bird spotting and beautiful bush and old-growth rainforests. Tough to narrow down, if we had to pick just one spot to visit then it would probably have to be Little Beach at Bouddi, where a short ten-minute stroll through the gum forest leads you to glorious rock holes, perfect for a quick dip and a marine-life inspection.
Take a wander through the local markets and stock up on local crafts, gifts and amazing food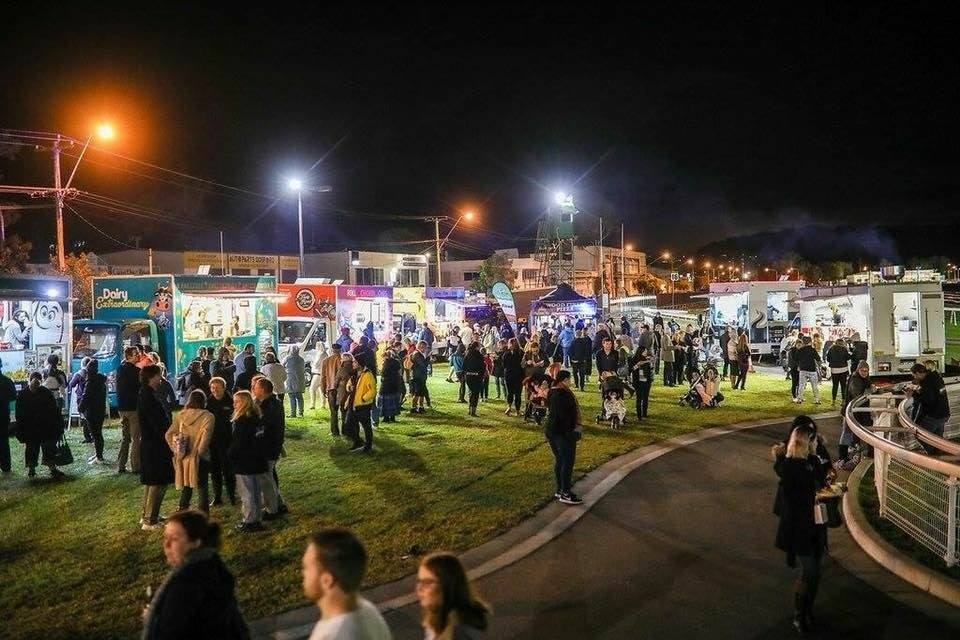 Fun for parents and kids alike, the local markets offer an array of food, crafts, clothes and live music. Ideal for souvenir shopping and filling up on amazing grub, there's usually a weekend market somewhere around the Central Coast. The Terrigal Beach Markets are one of our favourites, held on the first Saturday of the month at the beachfront opposite the hotel.
Cruise along the Central Coast's lagoons & waterways or tackle Central Coast Aqua Park's epic inflatable obstacle course (summer only)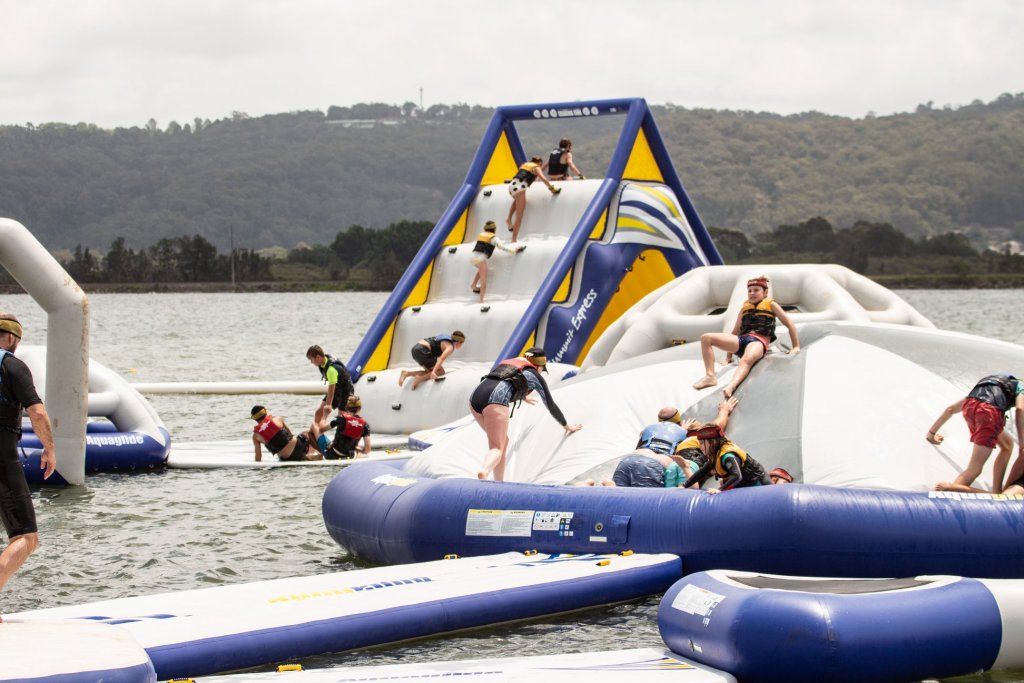 We're not sure there's any better way to spend a nice sunny day out with the family than by cruising along the Central Coast's waterways and lagoons in a pedalo or a SUP. Take your pick of Terrigal Paddle Boats or Aquafun at Avoca Lake, and maybe bring a picnic and a frisbee for some post-paddling shenanigans.
Too tame? If you (and/or the kids) feel like taking your nice relaxing day out to the next level, the Central Coast Aqua Park at Gosford has an epic inflatable obstacle course over the water. Game on!
Need even more inspiration? Check out our summer bucket list and round-up of the best playgrounds on the Central Coast. Or check out our local events calendar, which is usually packed with family-friendly festivals, shows, concerts and more.