One of our favourite things about the Central Coast is the enterprising and innovative locals, so we've decided to start a series featuring some of our amazing passionate Coasties who are creating waves here and further afield. And, in honour of the inaugural Beach House Beer Fest in October, we thought it the perfect time to profile one of our local beer heroes, Six String Brewery Co. co-founder, Chris Benson.
Here at the Crowne Plaza Terrigal Pacific, we love all things food and drink — and we especially love supporting our amazing Central Coast producers. You can find Six String Brewing Co. on tap year-round at our flagship beach-front venue, Terrigal Beach House, or of course, you can head up the road to Erina and visit the Six String Brewery and Tap House to sample old classics and limited edition specials alike.
For something really special though, you'll want to gather your beer-loving friends and come on down to the Terrigal Beach House Beer Fest. Running from the 15th-16th Oct, the Beer Fest is a great chance to support your local brewers and try some great festival-only brews.
As excited as we are for Terrigal Beach House's first ever beer festival and Six String's upcoming 10-year anniversary, they also serve as a good reminder of just how much the craft beer scene on the Central Coast has evolved in recent years. While the whole drinking and dining scene has taken off, it feels like the brewing scene is growing bigger by the day. As one of the first, Six String had to pave the way — and what a path they paved.
You'd be forgiven for thinking their soon-to-be-celebrated anniversary marks a decade of Six String Brewery Co., but its origins actually date back much earlier than that — to Central Coast school days, homebrewing and live music. We sat down with Chris to find out more about Six String (and his beloved six-string), what he loves about the Central Coast and how they feel about being the local pioneers of the craft beer revolution.
It's hard to believe that just over 12 years ago, Chris was working in IT in Sydney and dreaming of a way back to the Coast. Born and bred in Umina, he'd found a passion for home brewing in his youth, and had found inspiration and kindred in another local legend, Bob, at the Ultimate Brew Shop in North Gosford. One of his favourite people in the world back when he was 21 — and still to this day — Bob helped to kick start Chris' love for beer into a passion that was destined to grow into something much bigger.
Although he ended up leaving the Central Coast after school and heading out into the big wide world (or the big city, at least), Chris' love for brewing stayed with him. However, it wasn't until he was looking for a way to move back and start a family that he decided to combine his passions and ended up on the idea for Six String. "I decided a brewery would be an opportunity to live and work on the coast doing what I loved."
Enter Adam Klasterska. Chris' friend from school in Umina, Adam was also ready to dream big. In fact, over the years, they'd dreamed big a lot: "we've always made — and are still making — grand plans together. If it wasn't a brewery, it would have been something else!" Fortunately, for all of us, their hard work paid off, and, after years of dreaming, Six String Brewing Co. was born. The goal then — as it still is now — "to bring good beer to the Coast and create a born and bred, local brand that the Central Coast can call their own."
They say it's all in a name, and this one is especially poignant for Chris too. "The Six String Brewing Co. name came from a love of music, I was playing a six-string bass guitar at the time (although I don't get to pick it up much these days) so for me combining two of my favourite things — good beer and good music — was the dream."
But, not only did Chris and Adam have to do the hard work in making the beer, they also had to encourage the community to try it too. "When we first opened, the craft beer industry in NSW was only just starting to gain some momentum and for the Central Coast, this was all new. We had to do a lot of groundwork — from getting people to accept 'craft beer' to educating people on the benefits of cans over bottles and even challenging people to drink beers with flavour! We worked really hard to get people on board. For the most part, the people were keen but venues were really quite reluctant to tap something different. But, with a boom in the craft beer industry over the last few years things have certainly changed!"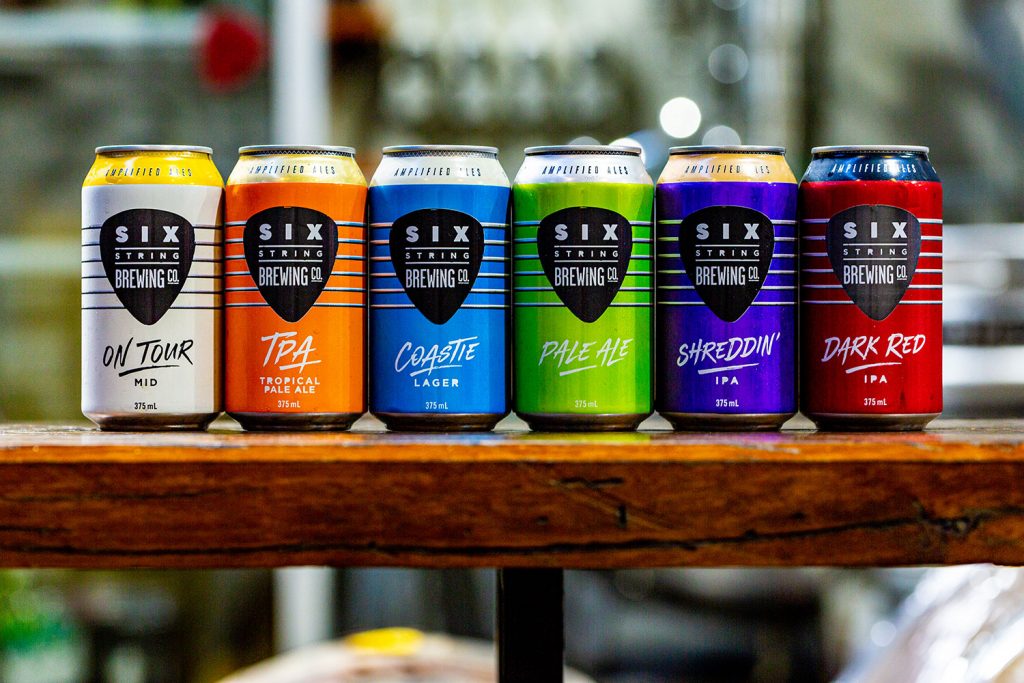 Unsurprisingly, over the years, things have changed as much within Six-String as around it. While Adam, and their other business partner Ryan (another school friend), have taken a bit of a backseat these days, Chris and his wife Sharon, still handle much of the day-to-day running of the business — including the soon-to-be-reopened Sounds on West — while juggling raising their two children. They also somehow still find time to enjoy life on the Central Coast, and squeeze in visits to their favourite bars to enjoy a good beer and some live music while supporting the local community.
"We love living here. We love the community, the beaches and bush walks and bike tracks. We love exploring all the community events, like Avoca Beachside markets and the Erina Night markets on the weekends or going for a good bush walk or bike ride or swim or going fishing and ending up somewhere nice for a beer."
It definitely isn't all play and no work, though. Chris jokes that "Six String is definitely the demanding middle child, and it's taken up so much more time and energy (and a few grey hairs!) than we ever imagined" — but you can tell there's nowhere else they'd rather be and there's nothing else they'd rather be doing. The Central Coast was where they dreamed of building their business — and raising their family — and while the lines can get a little blurred from time to time, all the hard yards have been worth it.
Even now, you can still feel that passion. A decade on, Chris is still just as in love with brewing as ever. "Over the years, we've seen a lot of change with trends in beers. But this is what we love. The appeal of brewing is not only the challenge of creating good beer — but the creativity that comes with it. For us, there is as much appeal in experimenting with different styles and flavours as in drinking them. We love that what were once very clear lines between styles are now being blurred, leaving room to experiment and create something that tastes good."
It's that passion that has also created a great work ethos and a wonderful, close-knit team. "Being a small business we really rely on having a great team, and ours is small but mighty! A lot of our team start out in one role and then move up — for example, our current brew team started out as our restaurant manager at Sounds on West, a sales rep and a bar casual. They are all passionate about beer and even more passionate about creating beer that people will enjoy."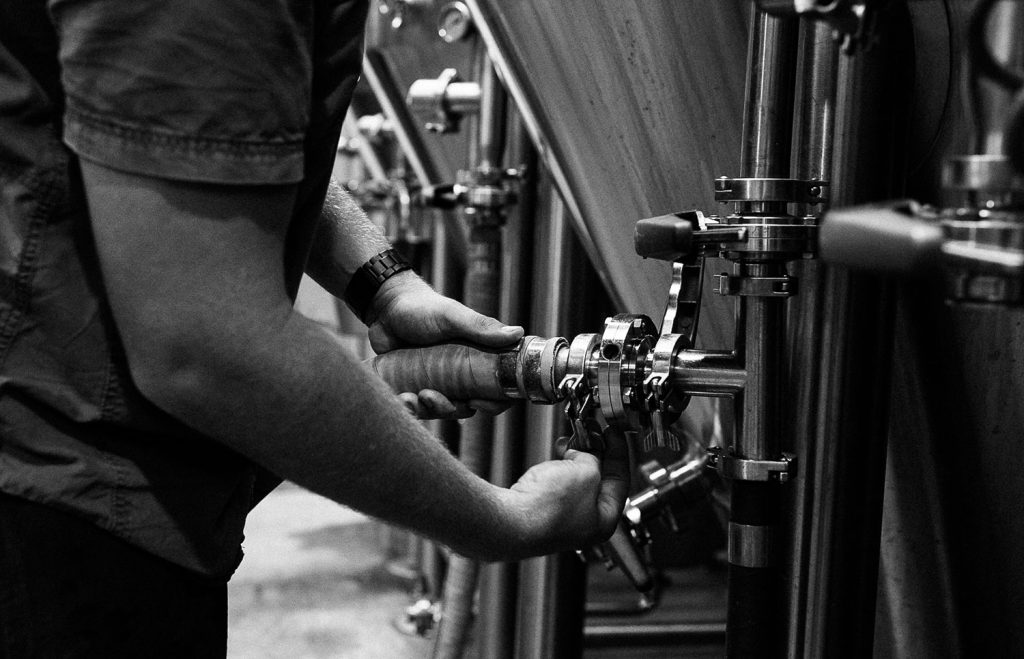 In fact, it sounds like they could all be Bobs and Chrises, inspiring a future generation of Central Coast brewers in the making. "We run a brewery tour every Saturday morning and the brewers can sometimes talk for hours. They can talk all day about beer and brewing."
Bringing together a great, passionate team of brewers is also a kind of alchemy. Amazing things can come from working together to create new and exciting things which is something Chris knows only too well after a decade of commercial brewing. "Whether it's using a new hop or a new brewing technique or creating a beer for an occasion, a cool winter night, a celebration, or even a beer festival(!), there are endless limits for creativity with beer. We love that people are continually looking for something new and different to drink as this means we get to brew more beers."
The Beach House Brew Fest is no exception. Chris loves how it's a chance for local craft brewers to be celebrated. "It's not only an opportunity to showcase what we are all about but also an opportunity to brew up something special for the occasion." And for Chris, this is the perfect excuse to get creative. "What could be better than a German Wheat Beer at an October Beer Festival!? Our Hefeweizen has been brewed as a limited release perfect for what should be an awesome weekend celebrating all things beer!"
We can't wait to try it.
You can read more about Chris' favourite bars here. For more about him and his endeavours, check out Six String Brewing Co.'s website.