On April 8, hundreds of ocean swimmers will line the beach in Terrigal, preparing to take part in the inaugural Daffodil Dip, one of three events that form the 2023 Terrigal Ocean Swim Classic. It's one of the major events in the calendar for organisers Terrigal Surf Life Saving Club (TSLSC) – and this year will take on new meaning, with proceeds from the 'Dip' going directly to Cancer Council NSW. There will also be 1km and 2km events.
Ray Moore, a local real estate agent with Stone Real Estate Terrigal, will be amongst those on the start line, and he'll be more familiar with the course than most. Over 20 years, the Terrigal local has logged thousands of kilometres in the protected bay between Terrigal Beach and the Haven, swimming three to four times a week with his beloved Terrigal Tremblers, part of the Terrigal Ocean Swimmers. On a weekend in summer, he's one of up to 300 swimmers joining the group for a swim.
Ray is naturally very enthusiastic about his local training ground, but says that he's drawn to the group and the routine for more than just the swimming itself.
"The swimming's important – we all love it", he remarks. "But it's the camaraderie and the coffee afterwards that's just as important."
The best ocean swimming spots
Of course, it's also a shared love of the ocean that unites this group, and for Ray, there aren't many other areas on the east coast that can compare to Terrigal.
"It's an idyllic swimming spot for ocean swimmers. The Haven protects us from the southerlies, and it's a surfing beach, but still calm enough for ocean swimming. Surfers can surf out on the point, so it suits everybody."
"We also see lots of different stingrays, including bull rays, and around the buoy we see yellowtail, kingfish, bream, blackfish, turtles. Swimmers have even rescued a few turtles!
When pressed on his other favourite spots to swim, Ray is quick to list Toowoon Bay as a backup ("it's just for a change now and then"), but it also becomes clear that Terrigal's appeal as an ocean swimming destination is not matched by many places on Australia's east coast.
"The interesting part about our sort of swimming, is if you leave here and go south, the next best spot for ocean swimming is Manly [Sydney]", he says. "There are lots of beautiful beaches, but not for  ocean swimming."
"It's the same when you go north – it's a long way before you find another area like this.
"I think here, Manly, Noosa and Byron Bay are the places that the ocean swimmers like the most."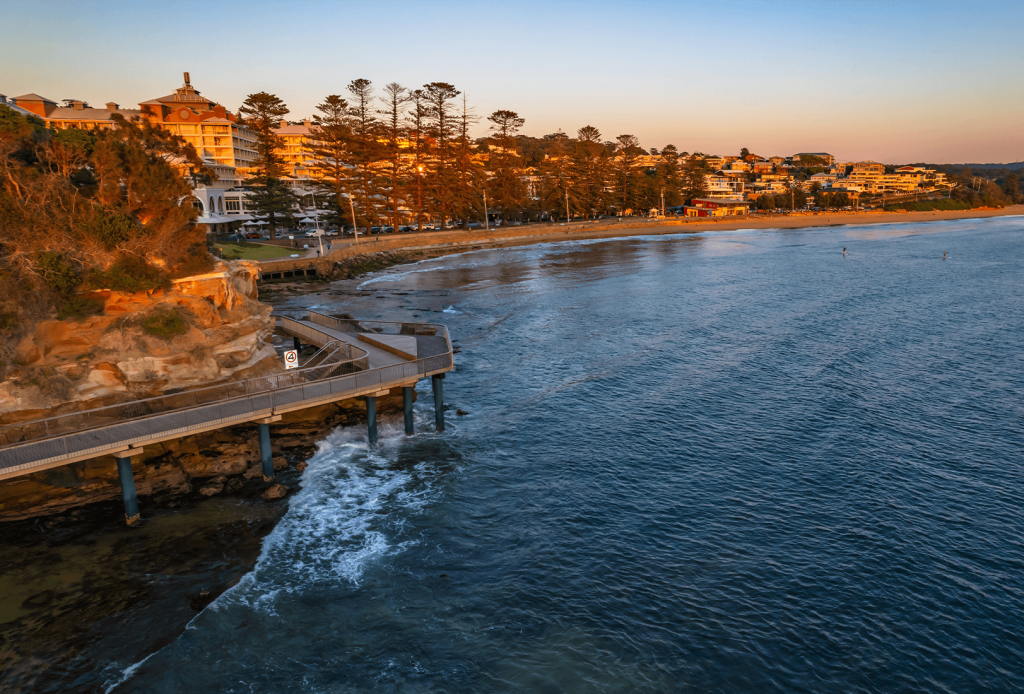 Advice for new swimmers
And for less experienced swimmers looking to "dip their toes in for the first time"?
"Now is the perfect time of year", explains Ray, because the water and air temperature are still warm. For those who can't make it to the Daffodil Dip on April 8, he recommends joining one of the many groups that operate under the broader Terrigal Ocean Swimmers banner – all with colourful names like the "Budgie Smugglers", "Sea Slugs" or "Swimeciles". There are more than twenty groups, which meet at different times and days of the week.
Ray, who is a member of the "Terrigal Tremblers", tells us that beginner swimmers are well looked after by more experienced members of the group, and are encouraged to practice over shorter distances if the full swim is too much to begin with.
"Once they've done that a few times and they get confidence, then you can't stop them."
2023 Daffodil Dip
Of course, the best way to get started is to join Ray at the 2023 Terrigal Ocean Swim Classic on April 8 and take part in the Daffodil dip. To do so, simply register here.
The Daffodil is the symbol of hope, and the Daffodil Dip will see each swimmer or 'dipper' wear a vintage yellow daffodil swim cap to create a visual 'ocean of hope' across Terrigal Beach, with 100% of proceeds going directly to Cancer Council NSW.
Swimmers who would like to challenge themselves with a longer distance can register for the Terrigal Ocean Swim Classic 1km or 2km events (or both!).
Free entry for Crowne Plaza Terrigal Pacific guests
Crowne Plaza Terrigal Pacific is incredibly proud to be the Daffodil Dip's first major sponsor, and will gladly cover the cost of entry for anyone staying at the hotel on April 7 or 8. For information on how to redeem this offer, visit terrigalpacific.crowneplaza.com/offers/daffodil-dip